Did you nominate any blogs for the Edublog Awards?
Check out the shortlisted blogs under each category in their sidebar.
You have until December 13 to vote.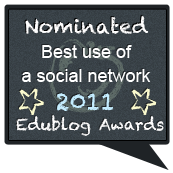 I would like to thank the teachers and students who nominated some blogs that I run:
Best new blog – Travelling with Mr Davo Devil
Best use of a social network – Student challenge
Lifetime achievement – Sue Wyatt   (aka Miss W aka tasteach)
Remember to also check out the class blogs and student blogs categories where your nominations might be found.