Exhibit hall not open till tomorrow so a nice relaxed morning. Headed to ISTE12 just before lunch after a walk down to the waterfront from my motel. Saw the  old wooden boat called the Star of India and what looked like an old submarine just behind it.
Took part in the Global Ed Summit run by Lucy Gray – saw Anne Mirtschin from Australia talk about how her school is working globally. Glad I took some business cards I made to this session. They had a draw like a raffle and guess who won the prize – Sue Wyatt – yep tasteach won a copy of Vicki Davis' and Julie Lindsay's book about Flattening Classrooms, Engaging Minds.
Time to hang out at the Blogger's cafe and meet some more people who I recognized by their twitter avatars. A quick bite for tea, then down to the lobby area to set up for our presentation on the Student Blogging Challenge. Many thanks to Tracy Watanabe, Sue Waters, Ronnie Burt, Linda Yollis, Kathleen Morris and her hubby Nate for being there to help talk about the challenge.  If everyone we spoke to joins the September challenge, I think we might need to have a committee start running it instead of just me with the help of the Edublogs team.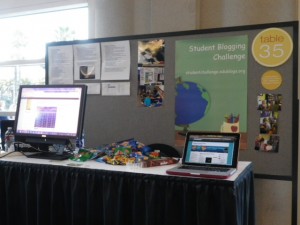 It was great to see so many people interested in the challenge and what blogging can do for students in creating global friendships as well as how it can work as part of your everyday subjects at school. In fact, we were asked to run the session again the next afternoon as some people had cancelled their sessions and they needed to fill the booths again.
I want to thank Sue Waters and her son Liam, for organizing the Aussie goodies for people to try while listening to us talk – Tim Tams, Caramello Koalas and Smiths Chips.
Not being a party animal like the others, I headed back to the hotel to chill out and get a good night's sleep as I know there will be a lot more walking tomorrow.