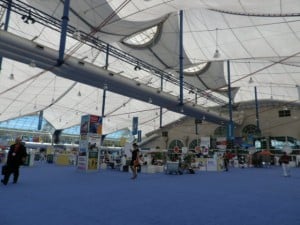 Went to some more sessions today – peer coaching panel where Tracy Watanabe was speaking. Met up with Sandy Rollefstad from Apache Junction who I visited with last year. Then back in the sails pavilion I headed to a session on digital storytelling with Julie Jaeger. She showed examples and explained about creating PSAs or public service announcements and book/movie trailers. Great to see creative commons being mentioned in a practial session.
Now to the exhibit hall. I visited many of these while dropping off my coupons. Looked at many that had online use maybe for eSchool. Here were some of those I was impressed with enough to collect a business card or a brochure. Many are American based with language and spelling but some are starting to have offices in England and Australia where they are adapting to our spelling.
Brainpop, Renaissance Learning, Digitales, SimSchool, Rosen Learning Center, Teen Health and Wellness, Gaggle, Tools for Teachers, IXL, i-Ready, Plato Learning, iZone, Mackin Via, Math Forum, Education World, Brain Hive, M-Edge, Arcademics and Lerner publishing
Was also thinking of the primary school teachers who I visit once a week to do some Smartboard training – found a free book called 'Creating SMART Notebook lessons for Dummies' – lots of ideas they might be able to use in the classroom on days I am not there. Lots of information about using the teacher toolkit.