Photo Credit: ITU_Pictures via Compfight
I thought how appropriate #blogactionday was to have the theme of inequality, especially after the announcement of the winners of the Nobel Peace Prize.
Both winners, Kailash Satyarthi from India and Malala Yousafzai from Pakistan, are trying to restore inequality equality especially for children. (Thanks Ms Scott)
The United Nations states have signed the Convention on the Rights of the Child including India and Pakistan. Here is a photo story from UNICEF about children's rights.
Photo Credit: Brett Davies via Compfight
One of these rights is to be protected from exploitation – yet child labour is still prevalent in India. Mr Satyarthi founded the Save the Childhood movement known as Bachpan Bachao Andolan. He is a children's rights activist who fights against child slavery, child trafficking and child bondage which have been common within India. He believes all children have the right to a quality and meaningful education. Read some of these stories of children who have been saved from rug making forced labour. Here is a game about a shoe sweatshop – could you survive?
Photo Credit: World Bank Photo Collection via Compfight
Another of the rights is to an education – yet in Pakistan the Taliban attempted to assassinate Malala because of her outspokenness regarding the rights of girls to have an education. Despite winning the prize, there are many in Pakistan who believe Malala is a puppet for the Western governments who are anti Islam. Since being shot and recuperating in UK, she has travelled to other countries where girls are often not given the right to an education including Nigeria, where many schoolgirls were kidnapped.
But you ask what can one person alone do to help with inequality around the world?
Malala is one person who is making a difference – and it began with her making a speech and blogging about schooling under the Taliban. She now has an organization helping to spread the word around the world.
Kailash also has an organization now backing him while he works to solve the problem of inequality regarding children in his country.
What am I doing to help solve this problem?
I sponsor a child through World Vision – even though I can't be there in person, my money can help with building schools, providing safe drinking water, teaching about safe health practices all of which improve the lives of families and hopefully get the children into school rather than walking miles every day to collect water.
I also have about 25 loans at the moment through Kiva – I mainly donate to women who are trying to improve their businesses or start one from the home. This also will then help their family and hopefully allow children to attend school for a good education.
I also have a student blogging challenge group on the Free Rice game where students can win rice that is then donated through the World Food Program to needy people around the world.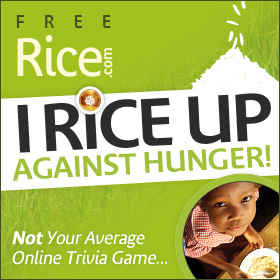 What are you and your class doing to help solve the problems of inequality around the world, especially for children?