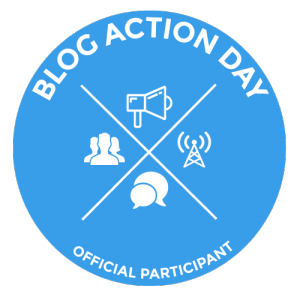 Next Friday is Blog Action Day 2015.
Every year the students and classes taking part in the blogging challenge also take part in #BAD2015
Blog Action Day is one day each year when thousands of bloggers write a post on the same topic.
Read this post to learn about the history of Blog Action Day.
The theme this year is "Raise your voice"
Read this post about why that theme was chosen.
Teachers and students over 13 might want to register their blogs to show they are participating.
You can add a badge to your blog if you are writing a post for Blog Action Day. Click on the badge and save to your computer, then go to your widget dashboard and drag over an image widget – add the image then copy the link they ask you to add
Remember to publish your post on October 16 and not earlier in the week
What could you write about?
Ever been inspired by the actions of a person in your community?
They could be an unsung hero who spends their holidays working with the underprivileged, travelling overseas to help build schools, spends Christmas in a soup kitchen dishing out meals to the homeless. Might be a student who spends their holidays volunteering somewhere rather than going to the beach with friends.
Is there an issue that inspires you?
Maybe animal abuse and what you are doing about it. Think about Malala and her role in improving education for girls around the world.
In some countries, you could be put in gaol for blogging about issues that the government doesn't agree with. Raise your voice for these bloggers and journalists.
How can technology help in times of disaster?
Often the people of a country can quickly work together in times of disaster, before government departments get organized. Think about bushfires, floods, tsunamis, cyclones and hurricanes- how could you raise your voice at this time?
Indigenous people in your country
Often the indigenous people do not have their voices heard especially when it comes to land rights, voting, the environment and multinationals on their land. Raise your voice for the indigenous peoples.
Refugees and immigration
Often the people of a country are prepared to have refugees live in their country while governments may take a more negative route. What is your opinion on how you can raise your voice for refugees?
One group of students in our challenge have a blog about pressing problems from a student perspective. Maybe you could raise your voice with them.
Remember the power of images in your post or videos or audio – maybe interview someone who has been a refugee or is an indigenous person in your community. Ask them about how their voices were suppressed and what you can do to raise their voice!
So your post is schedule to go live on Friday but you still have time for more blogging. More things to do:
Visit some of these great posts from our week 1 activities: Dinah – mentor, Mrs Black – teacher,
Check out these students from the Huzzahnians – Talia, Alinna, Kassy, Ben, Nate, Elijah, Autumn, Connor, Kalea, Morgan
Read some of the posts that got flipped to our flipboard magazine in the sidebar – Mrs Shirley's grade 6 students are there
Visit the student or class list and start leaving some quality comments – start making connections.
Other admin for week 2
Check that your name appears only once on the list of participating students. Leave a comment on that page if I need to remove your name from the list – give me your name, URL and age so I can find you easily.
If all the students in your class have blogs and your teacher has a section called 'My class', you should have a widget called 'Class blogs'. Make sure this is on your sidebar.
Add the challenge badge to your sidebar – here is link explaining how to do that.
Can visitors leave comments on your blog posts? If your country is in bright pink, then you might need to change your privacy settings or give me your correct URL. Check this post for how to do this using Edublogs, Blogger and Kidblog.
How do I know you have done your activity?
You come back here to this post and leave me a comment. Make sure you include the URL of your post so I can visit and leave comments. Tell me what you enjoyed most about the activity.
Also great posts get added to our Flipboard magazine on the sidebar of the challenge blog. Your blog must allow search engines to find you to ensure I can flip your post.