Registrations are now open for the next Student Blogging Challenge! This is a way for students to learn about blogging while connecting with other students around the world.
Read more about the challenge here.
The sign-up form in this post is for students to register as individual student bloggers. Click here to find the sign-up form for teachers wanting to register their class.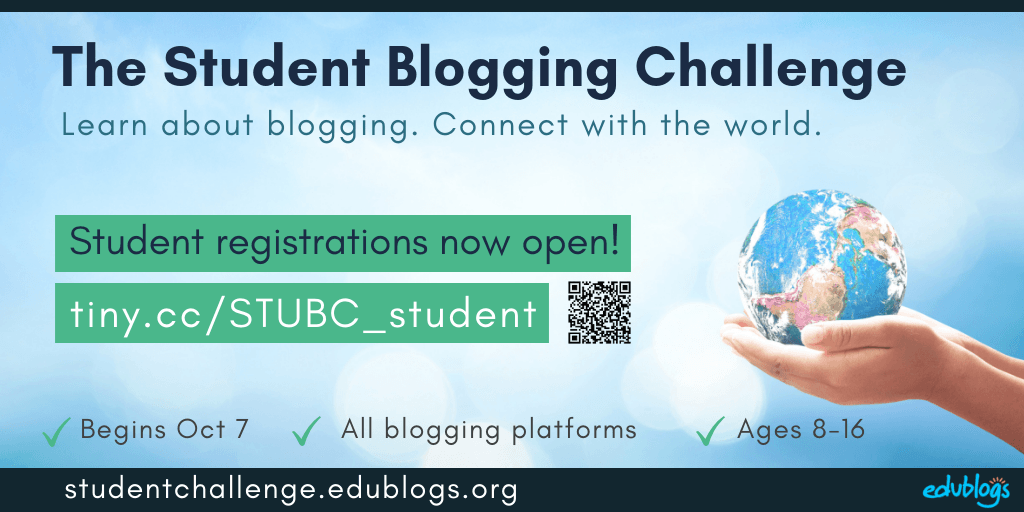 Registration Information
Before filling in the registration form below, please read the following information.
Who should register?
Students should register who:
Have their own personal blog (any platform)
Want to connect with other students around the world
Have permission to take part from their teacher/parents
Are aged between around 8-16
Are located anywhere in the world
Note: Please register only once.
Reminders before registering
Please read through the Frequently Asked Question guide on our About page which explains more about the challenge.
Mailing List options for students:
Students with their own email address might want to sign up for our email list to get sent all the Student Blogging Challenge news and the weekly posts. Click here for the mailing list sign up form.
Students without email addresses can check the weekly post on this site each week and/or ask a parent or teacher to sign up for the mailing list. Sometimes teachers post the challenge information on a class blog for students to refer to as well.
Before the challenge begins on October 7
There are a few things you can do prior to the challenge to make sure you're ready to go on October 7.
A few days after registering, check the student participants' page. Click here or look for 2018 Students in the header area of this blog. Check this list prior to October 7 to make sure you are on the list and your details are correct.
If you are not listed on the participants' page, register again being careful that your blog URL is correct.
If you are on the participants' list, start visiting other student blogs if you have time. You might choose to visit students who are a similar age to you or who share similar interests.
Consider starting the Blogging Bootcamp self-paced course if you're new to blogging and need to get your blog set up before beginning.
Make sure you have a few posts published on your blog so others can leave comments when they visit.
Spread the word! For students/classes that use Twitter, the hashtag is #STUBC.
Registration Form
Read through all the information above? Ready to join us? Simply fill out the form below or click here to open it in your browser.
Any questions? Leave a comment below and I'll get back to you!