Our commenting team is a very important part of the Student Blogging Challenge. They provide an authentic audience for our participants and offer the students support and encouragement.
We know how much students love getting comments on their blog posts!
We are currently building a strong team of commenters to visit the hundreds of students who will be taking part in the next challenge.
Are you interested in volunteering as a commenter? Check out this post.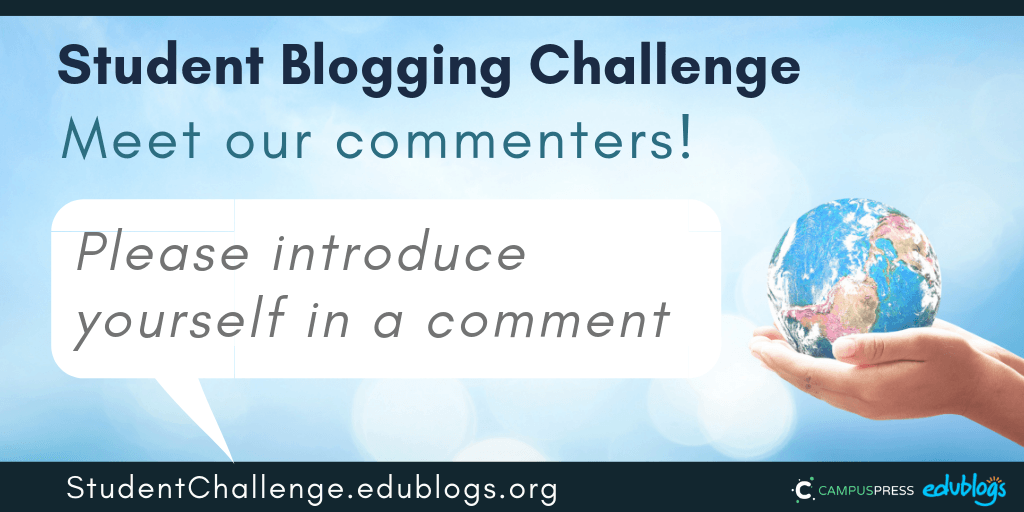 Who Are The Commenters?
Before we begin the challenge, we thought it would be nice to introduce our commenters who will be working behind the scenes for the 10 weeks.
Commenters are involved in education either as teacher (active, preservice, or retired), student (past challenge participant), or administrator, coach, leader, writer etc.
Our commenting team leader is Sue Wyatt (@tasteach). Sue started the Student Blogging Challenge in 2008. Last year, she handed the baton on to me, Kathleen Morris.
Commenters, Please Introduce Yourself
We're now inviting our commenters to leave a comment on this post and introduce themselves.
Commenters, please scroll down to find the comment box.
You might like to tell us:
Your name: Choose the name you'd like students to address you with — either your first name or Mr/Mrs/Ms etc.
Your location: You might like to be specific about where you live or just tell us the country you're from.
Your role this year: Are you a teacher? Student? Administrator? Please share your role in education.
Why you're volunteering as a commenter: Or perhaps your interest in blogging or global collaboration.
Anything else interesting about yourself: Perhaps tell us something about your hobbies, family, pets, or background etc.
You URL: Do you have an educational blog? Feel free to leave the URL.
Feel free to end your comment with a question for our readers.
We'd love to see any readers (commenters or participants) go ahead and reply to any of the comments!
Example comment
Here is an example of a comment on this post from Sue Wyatt. As you can see, she has used a greeting and paragraphs which is a sign of a quality comment!
If you're wishing to reply to Sue (or any other comments) look underneath the comment for a respond button.
Replying is just a matter of entering your comment in the box, entering the anti-spam word, and writing your name (students should not write their surname).
Entering your email address is optional but it can be a good idea to enter your email address if you have one and then tick the box to get a notification of follow-up comments.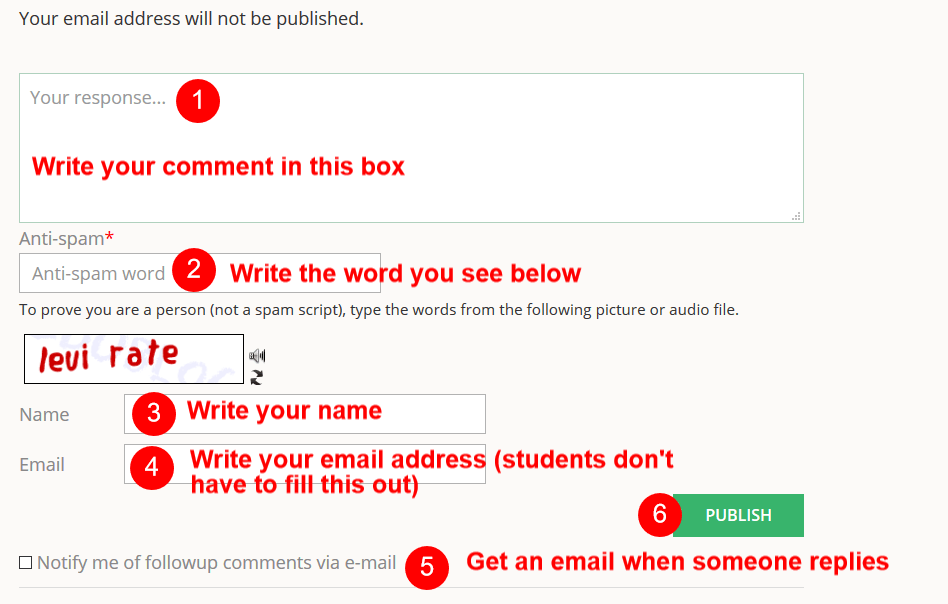 Our Commenter Twitter List
Many of our commenters use Twitter to connect with other educational professionals. We have added the approved commenters who use Twitter to a Twitter list.
Not all of our commenters are on Twitter and that's okay. If you are on Twitter, we encourage you to subscribe to the list, follow your fellow commenters and connect with them.
Note: If you're not on the list and want to be, just comment on this post or send me a tweet (@kathleen_morris). 
How To Use The Twitter List
Lists are a great way to keep track of groups of people on Twitter.
Using a Twitter list is straightforward but if you haven't tried it before, let's walk through the process.
Here's how to use the Twitter list using the web version of Twitter.
1) Go to https://twitter.com/edublogs/lists/stubc-commenters-march-19
2) On the left, you'll see the option to subscribe to the list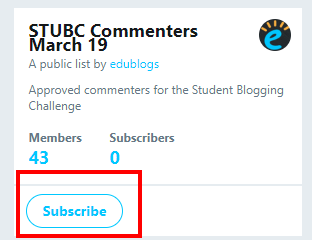 3) Click on the word 'members' above the subscribe button. Here you can make sure you're following all the participants.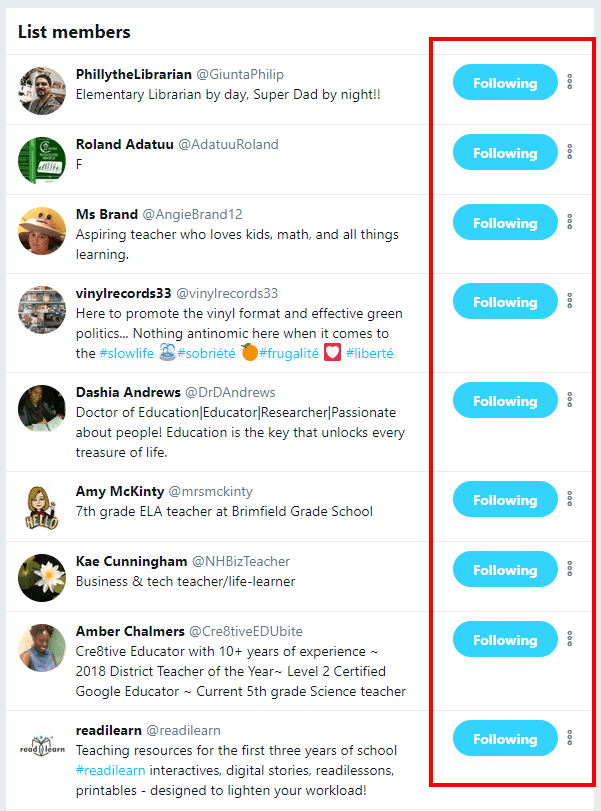 4) To check out the list at any time, click on 'lists' on your profile page.
5) Find the STUBC Commenters March 2019 list amongst your other lists (if you have others). Click on the name of the list.

6) You'll then see the feed from all members of the list so you can interact with their tweets.
Over to you!
Time for you to leave your comment. We're looking forward to meeting our commenters below!