This is the penultimate (second last) week of the Student Blogging Challenge!
This week we're putting together all the things we've learnt throughout the challenge to make a high quality post!
I'd love to use some examples of high quality student posts for an upcoming blog post on TheEdublogger.com!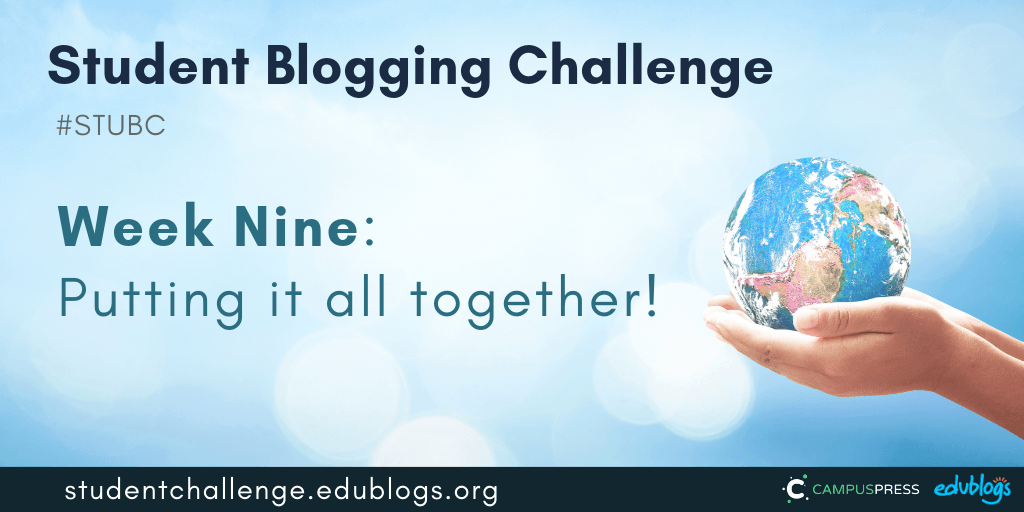 Week Eight Recap
Last week we had some students publish excellent posts about the world and travel.
You can find them all here (or click on the red week 8 box on the sidebar).
Let's take a look at just some of the fantastic work we spotted last week:
Reminders
Here are a few important reminders:
The Google Forms for weeks 1-6 are now closed. You can still submit posts in the Google Forms for weeks 7 and 8 if you're catching up.
Please check to see if you have comments waiting to be approved! Try to write a reply to your comments, even if you only have time for a short thank you.
Remember if you're adding Google Doc/Form/Slide presentations to your post, please check these are public so others can see them. You'll find the instructions here.
Results Of Our Celebrations Poll
Remember two weeks ago we ran a poll to see which holidays our STUBC participants celebrate? We had 365 responses.
Here are the most popular responses in percentages. If you notice anything interesting about the data, feel free to leave a comment on this post.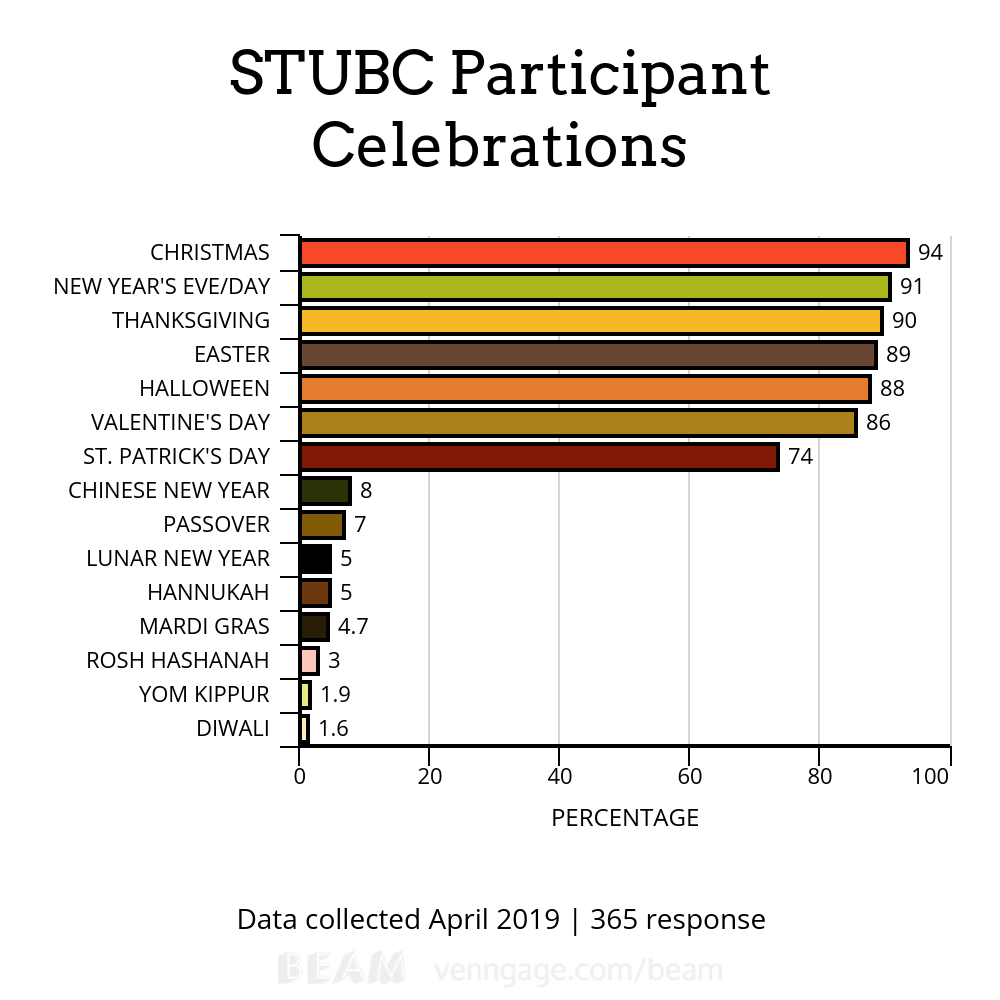 Other responses included birthdays, Eid, 4th of July, Ramadan, Mother's Day, Father's Day, and Vaisakhi.
Tip: I made the chart above by entering the survey data into a free online tool called BEAM. It's handy!
Time to begin this week's topic…
What Makes A Quality Blog Post?
I hope you've learnt a lot throughout the Student Blogging Challenge! Perhaps if you look back to your posts from a few weeks ago you can see that you've improved.
This week we're going to try to put together everything we know about creating a quality blog post.
Let's go over some of the essential ingredients of a quality blog post. You might have your own ideas too!
You're welcome to add this poster to your blog.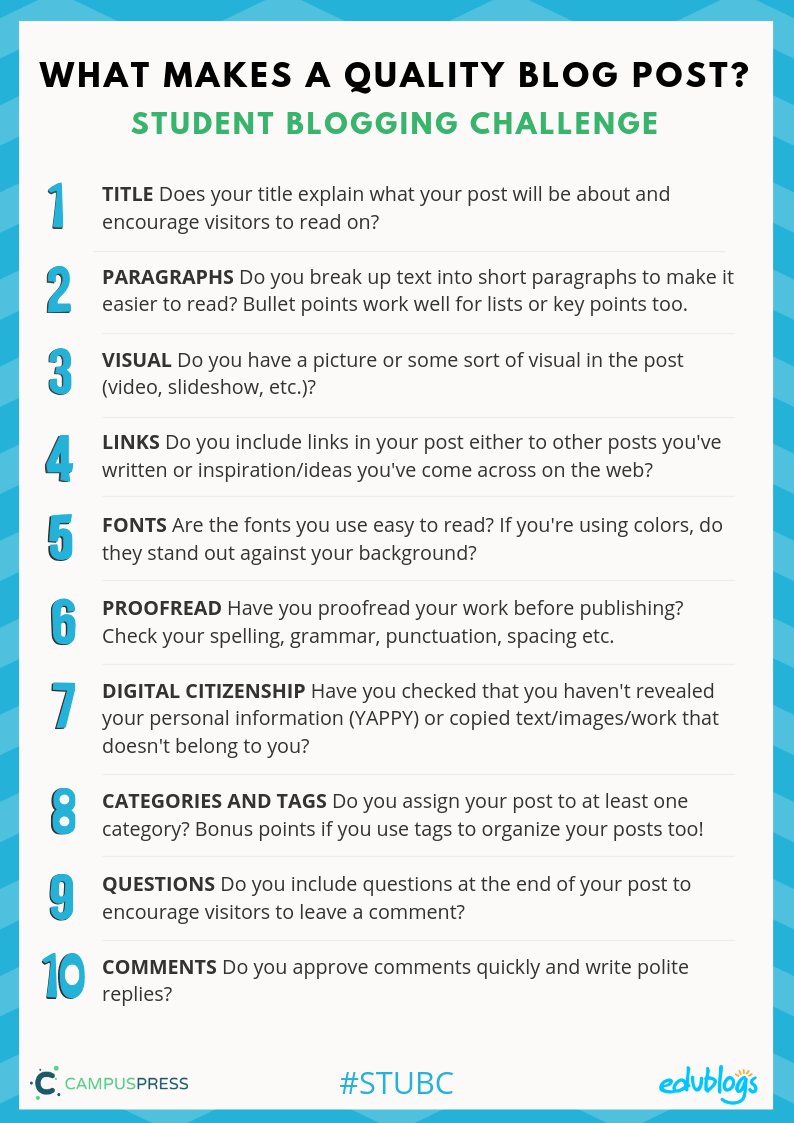 Week Nine Tasks
This week there are just two tasks. Complete one or both depending on how much time you have. 
Our graphic summarises the tasks and I will explain them in more detail below.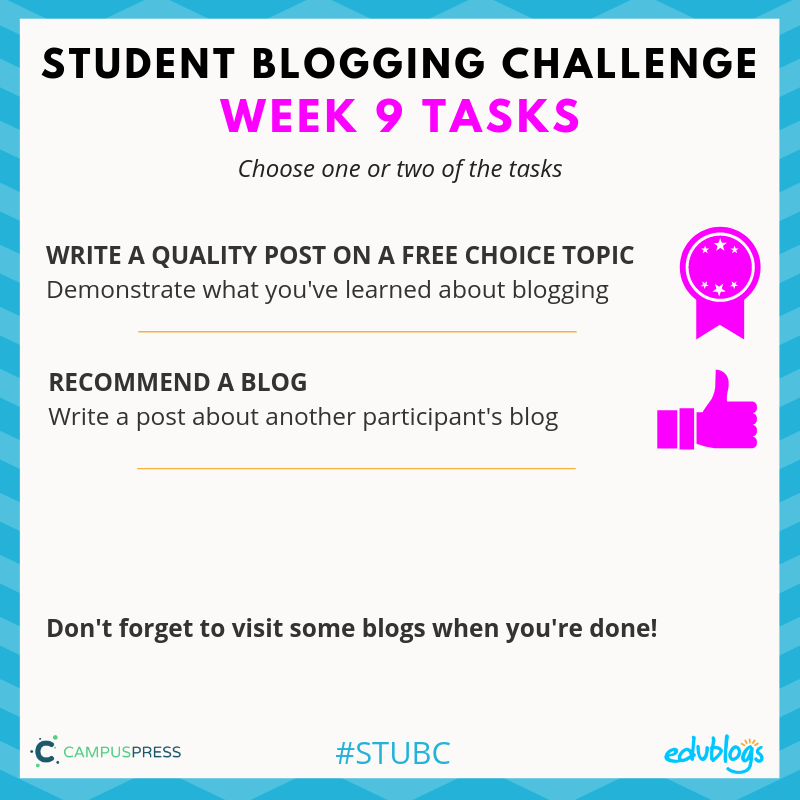 Task 1: Write a quality post on a free choice topic
Use the ideas in the graphic above about what makes a quality blog post (as well as your own ideas) to create a fantastic blog post.
Make sure you proofread it really well and try to make it your best post yet!
You can write about anything you like! If you're stuck for ideas, why not try:
A happy memory
If you had three wishes…
Your pet (or a pet you wish you had)
Your hobby
Your dreams for the future
Things others wouldn't know about you
Task 2: Recommend a blog
Have you come across a great blog during the Student Blogging Challenge? (Preferably from someone who isn't in your class).
Write a post about that blog and tell us what makes it special. Include links to a couple of posts they have written.
Add a screenshot of their blog (remember a quality blog post includes a visual!).
When you've published your post, leave a comment on their blog to say you have written a post about them.
Tip:
Make sure people can click on your links. These instructions show how to make links in Edublogs.
It's just a matter of highlighting the words you want to link and pasting your link (Control/Command C).
So, instead of saying:
I really like Miss W's photo blog and you can visit it here http://imageaday.edublogs.org/
try…
I really like Miss W's photo blog.
Examples:
Visit Others
Don't forget to try to visit a couple of other bloggers once you've published your own post. Making connections is the best part of the Student Blogging Challenge!
Click here to see the week 9 posts that our participants are publishing.
Submit Your Post URL ⬇
If you'd like a commenter and others to visit your post, fill in the form below.
This video shows you how to find your URL…
Note, this isn't a real class blog. Just one I used for testing 😉
This graphic below should help you understand what a post URL looks like if you're using Edublogs/CampusPress/WordPress
The Google Form
Edit: Enter your details in the Google Form below or click here to open it in a new tab.
Teachers, feel free to put the Form URL on your class blog if it's easier for your students to access.
https://forms.gle/JoDkUnDoF8Mp6f9bA
---
Next week's topic (final week): Reflect and Celebrate!