Phew! There has been a lot to learn and set up over the past three weeks.
You've been working hard and now it's time to catch your breath.
This week you'll have some space to catch up on the first three tasks or write a free choice post. I've got some more ideas for you below.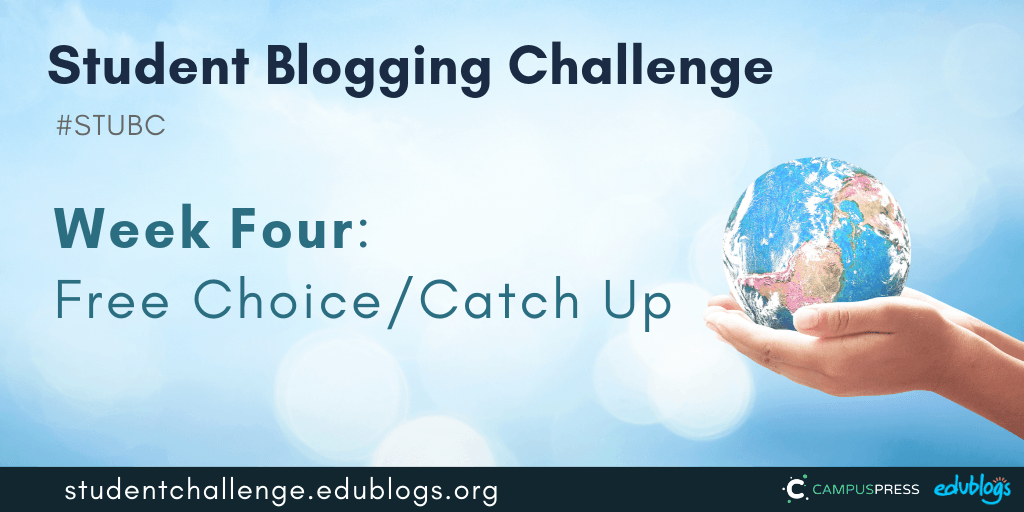 Week Three Recap
You can find them all the great posts submitted by students and classes here (or click on the red week three box on the sidebar).
Here is some interesting work from class blogs:
Some great student posts about images:
You can view more great work on our 2019 Student Blogging Challenge Flipboard.
Reminders
Here are a few important reminders:
Please keep approving comments quickly. Some students don't realise they have comments waiting to be approved in their dashboard.
Are your images aligned well? If you're using lots of images, put a new line after each photo. If you're using Edublogs/CampusPress you can also use a gallery as explained in week 3.
Posts that are proofread and written in short paragraphs are much easier to read! Need help with proofreading? Try a free tool like Grammarly. Note: Grammarly is 18+ but if you're aged between 13-17, you can use it with permission.
The Google Forms stay open for 10 days. The week two Form closed on Wednesday 23rd October. The week three Form will close on Wednesday 30th October. If you're late to complete a task from weeks one to three, it can be submitted in the week four Form at the bottom of this post.
Quick Tutorial
Did you know you can edit the permalink or URL of your post before you publish it? This can make your URL neater and easier to share.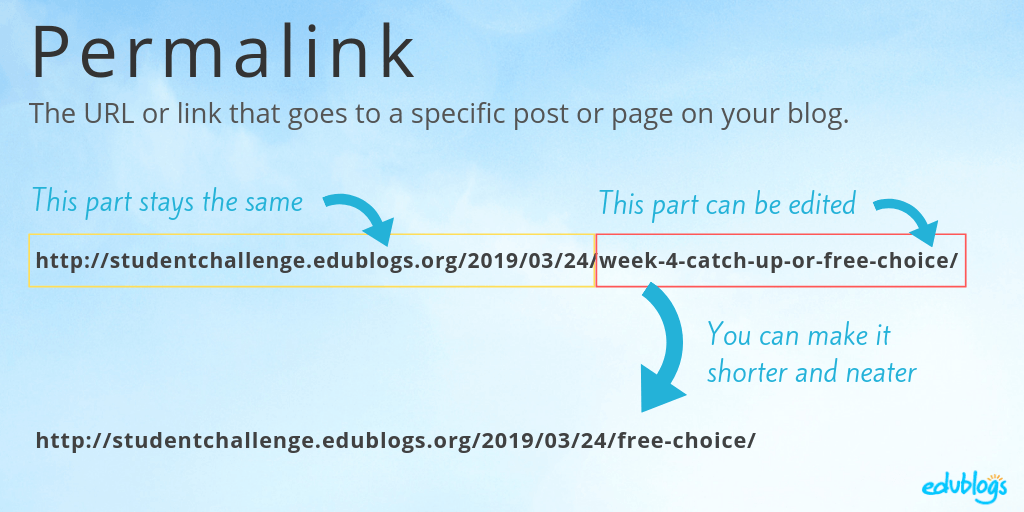 This quick video explains how to edit your permalink if you're using Edublogs or CampusPress.
Remember never to edit your permalink after you publish a post or people will no longer be able to access the post with the original URL you shared.
More Tips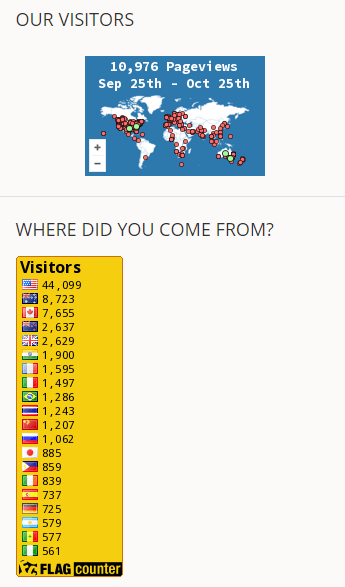 You will notice on the sidebar of the Student Blogging Challenge blog we have some visitor tracking widgets to see which countries our visitors are from.
You can add these to your sidebar too. Find the instructions for Edublogs and CampusPress users here.
Because you need to use embed code, you'll only be able to add these visitor tracking widgets with an Edublogs Pro or CampusPress blog. Embed code isn't enabled on free blogs to prevent misuse by spammers.  
Using a different blogging platform?
Not getting many visitors?
Try visiting other blogs and inviting them to visit your blog.
If you look on the sidebar of the Student Blogging Challenge homepage, you will see the links to the tasks that participants completed for the first four weeks.
Choose some people to visit. Make your comment a high quality one — proofread it, ask a question, and show a genuine interest in the blogger. Then leave the URL of a post you'd like them to check out.
Which approach do you think would come across better?
Comment one
Comment two
Check back to see if the blogger replied to you too (if possible, tick the box to be notified of follow-up comments).
If you keep visiting a few of the same people over the coming weeks, you could really get to know each other!
Now it's time for this week's task…
Week Four Tasks
This week's tasks are simple but I've offered a little elaboration below the summary graphic.
Task 1: Catch Up
You might not have had the chance to complete a task for weeks one to three. Or you might like to complete an additional task from the choices on offer. Go for it.
Here are the links (you'll also find them on the sidebar of the challenge homepage).
Reminder about Google Forms:
The Google Forms for week one and two are closed tasks is closed. Week three will close on Wednesday 30th October.
If you're catching up on an earlier task, you can add it to the Google Form at the bottom of this week four post.
Task 2: Free Choice
What's something that interests you? Write about it!
Stuck for ideas?
Check out these 100 blogging prompts for students. 
Some people are celebrating Halloween this week. Tell us about it!
Do you like poetry? This post on The Edublogger has 15 ideas for fun poetry activities.
One of our great commenters, Sheri Edwards, created a tutorial showing how to make a character out of Google Drawings. Why not make a character and blog about it?
Sheri has another great post about Sharing Hobbies as well. It might give you even more ideas about sharing and connecting.
If you write a free choice post this week, submit it in the Google Form at the bottom of this post.
Task 3: Visit
You might have a bit of extra time this week so it could be a good opportunity to visit at least one other blog and leave a quality comment.
Remember to ask a question and check back to see if they replied to you (most platforms have a box to tick so you can get an email when there is a follow-up comment).
Click here to see the posts that students and classes are submitting for week four.

Task 4: Kahoot!
Have you ever played Kahoot? Get some friends together and test your blogging knowledge with our 15 question quiz!
How Kahoot! works:
The multiple-choice questions appear on the screen in the classroom and students submit their responses in real time using their computer, tablet, or mobile device.
Students can work in teams and can work for points (most correct answers and quickest responses).
Our Introduction To Blogging Kahoot goes over some of the key terms, vocabulary, and uses of blogs.
How To Play Our Blogging Kahoot!
To access the Kahoot, click on this link.
You don't need an account to play, however; you will need to log in if you want to edit the quiz (teachers can adapt it for your own students if necessary).
You also need to be signed in to save results.
You'll have the option for your students to play against each other individually (classic mode) or in teams.
You'll also have a variety of game options you can play around with (see below).
Once you finalize your selections, a game pin number will show up. Students will go to the Kahoot app on their device, or to https://kahoot.it/ and enter the pin number to begin!
If you try the Kahoot, perhaps you can write a blog post about it and share it in the week four Google Form.
Submit Your Post URL ⬇
If you write a free choice post (or catch up on a post) and would like a commenter and others to visit, fill in the Google Form below.
You need to submit the URL of your post. Miss W has started deleting submissions that are not post URLs. Some students are submitted the URL to their blog or dashboard. (You'll need to resubmit your post URL).
You can submit the URL of a page if this is what you're working on but make sure comments are enabled. 
This video shows you how to find your URL…
Note, this isn't a real class blog. Just one I used for testing 😉
Remember:
Click on the title of your post/page and then copy the URL from your address bar.
This graphic below should help you understand what a post URL looks like if you're using Edublogs/CampusPress/WordPress
The Google Form
Edit: The week 4  Google Form is now closed. Feel free to enter the URL of your work in a later form that's still open.
---
Next week's topic: Music 🎵