Have you heard of Earth Day? It's held on April 22 of every year.
2020 marks 50 years of Earth Day!
This week you're going to use your blog to let everyone know about protecting and restoring our planet. You'll get to choose an environmental topic that's interesting or important to you.
Week Four Recap
You can find them all the Week Four posts that have been submitted so far by clicking here (or click on the orange week 4 box on the sidebar).
Let's take a look at just some of the fantastic work we spotted from the last two weeks:
Reminders
Here are a few important reminders:
The Google Forms for weeks 1-3 are now closed. You can still submit posts for earlier tasks in later Google Forms if you're catching up. Check the schedule here.
Please keep approving comments regularly. Try to write a reply to your comments, even if you only have time for a short thank you.
To become a better blogger, before you publish consider: have I proofread? Is my text broken up in short paragraphs (bullet points can be good too)? Do I have an image, a video, or some other sort of visual?
Let's Look At Earth Day
Earth day is an environmental movement to drive change for the people and the planet.
What sort of things do you and your community do to look after our planet?
Recycle?
Walk or ride where possible instead of driving?
Plant trees?
Clean up outdoor areas?
Donate goods you don't need?
Use reusable bottles and cups?
Minimise printing?
Avoid plastic bags and food packaging?
Grow your own food?
Avoid wasting water?
Turn the lights off when you leave a room?
There are so many things you can do to play a part in saving the environment. Even small actions can make a big difference.
Since 1970, Earth Day has been an annual chance to remind people to take action.
Week Five Tasks
This week's activity is simple. You're going to choose an environmental issue you're interested in and write a blog post that educates or informs your readers. 
Here is a list of topics or you can choose your own.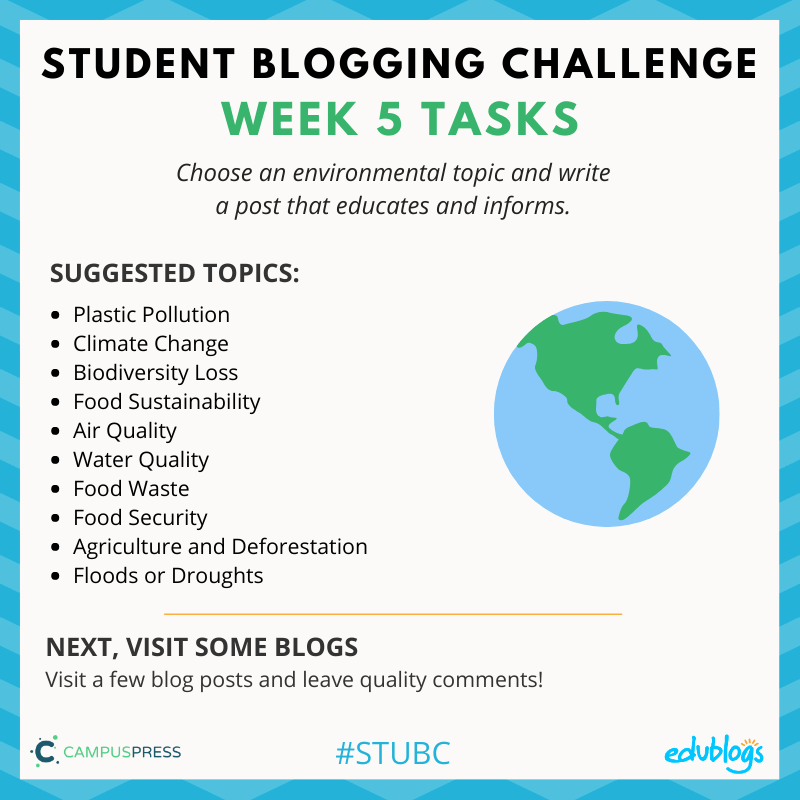 Step One: Choose your topic
What are you interested in? Is there a topic you're passionate about? Or maybe there's a topic you're not very familiar with and you'd like to find out more about?
Select one of the environmental topics in the diagram above or choose your own.
Step Two: Find resources
You might need to do a little bit of research to write your post.
👉🏽 Remember: You cannot copy and paste text off another website and use it as your own. Write information in your own words and link to the site you got the information from.
👉🏽 These instructions show how you add a link if your blog is on Edublogs/CampusPress.
Here are some sites you can check out to learn about your topic:
Earth Day Website: This part of the Earth Day website has some basic information to get started.
The Sustainable Development Global Goals: Some of these relate to environmental issues and there is lots of information available on The World's Largest Lesson site.
Kids Go Global: There is some information about certain environmental issues.
Find any other good sites? Please leave comment and let us know!
Step Three: What could you include in your post?
Your post could include:
Information about Earth Day 2020. Tell readers that it is on April 22 and what it's all about.
An explanation of your chosen environmental issue.
Why this is an issue that you're interested in. Did you hear about it on the news? Is it a problem in your local community? Is it something you haven't heard of but wanted to learn more about?
Some facts about your issue.
Tips on how people can help (for example, if your topic is plastic pollution, you might give tips about using cloth shopping bags and avoiding disposable food wrappers).
👉🏽 Don't forget that a picture always makes a blog post better too! Don't remember where you can get pictures from? Go back to Week Three. 
Step Four: Connect with others when you've published your post
As always, an important part of the challenge is to connect with others. You never know what you might learn or who you could connect with!
When you've finished your post, choose a couple of blogs to visit and leave a quality comment.
Remember to ask a question and check back to see if they replied to you (most platforms have a box to tick so you can get an email when there is a follow-up comment).
You will find the link to the week 5 participants' posts on the sidebar of this blog on Tuesday.
After An Extra Challenge?
Why not make a video, a song, or a graphic for your Earth Day post?
Here's a simple song to get you thinking…
Submit Your Post URL ⬇
If you'd like a commenter and others to visit your post about Earth Day, fill in the Google Form below.
This video shows you how to find your URL…
Note, this isn't a real class blog. Just one I used for testing 😉
This graphic below should help you understand what a post URL looks like if you're using Edublogs/CampusPress/WordPress
The Google Form
Teachers, you're welcome to put the Google Form URL on your own blog or LMS if it makes it easier to share with students.
https://forms.gle/vf94MeNbu2obNMPx6
---
Next week's topic: Schools Around the World 🏫