This series is designed to guide you step by step through the process of learning to blog.  The activities can be completed at your own pace and in any order.
The aim of this second activity is to:
Create and upload a user avatar.
Publish your first posts.
User Avatar
The user avatar, also known as your comment avatar, displays in places where you leave comments and next to posts you publish on some themes. Your avatar is an online representation of you.
Below is an example of a user avatar next to a comment which looks much nicer than using the default avatar.
Create your avatar
Your first task is to create your avatar using an online avatar tools.
Below is some online avatar tools you could try — Click on an image below and you will be taken to the website where you can create your own avatar:
Once you've created the avatar you save the avatar by either:
Right click on the avatar and select "Save Image as" or "Save Picture as" to save a copy on your computer
Take a screenshot of your image (use the Snipping Tool or PrnScrn)
Important tips:
Most online avatar tools create rectangular images whereas your user and blog avatar are square.
Allowed image formats are jpg, gif, and png.  For best results use jpg.
We recommend you edit your avatar or photo to 200 pixels wide by 200 pixels high using an image editing program such as Picture Manager, MS Paint or iPhoto before uploading.  Remember to save it as a jpg.
If you still see the old avatar after uploading your new avatar it may be your web browser remembering your old image.  Hold the Ctrl key and press F5 to clear your browser cache or right mouse click and click Refresh (Reload).
Upload Your Avatar
1. 2.  Go to Users > Your Avatar (or Profile > Your Avatar)
3.  Click on Choose File, select the avatar you want to upload and then click on Open.
4.  Click on Upload.
5.  Expand the crop area to include your full image and click Crop image.
6. Now when you view a post where you've left a comment you will see your new comment avatar.
If you still see the old avatar your web browser may be remembering your old image.
Right mouse click and select Refresh (Reload) to clear your web browser cache to view the latest version of your image.
6.  You can also upload a blog avatar in Settings > Blog Avatar.
The blog avatar is displayed in your sidebar when you add the Blog Avatar widget in Appearance > Widgets and in the Class blog widget if the avatar option is selected.
Introduction to posts
Now you've changed your theme and set up your user avatar it's time to write some posts so your teacher and other students can leave comments on your posts.
Your first post might be about why you are blogging, what you will be writing about in your blog or you could write a post about your avatar, how it represents you and which website you used to create your avatar.  Alternatively, your teacher may have given you a task to write a post on.
Stay safe online
Remember to be savvy online and don't give out any private information:
Only ever use your first name.
Don't publish personal details about yourself such as your surname, your address, email address, phone number, or date of birth.
Don't share personal photos online.
Be kind and compassionate. Don't publish posts, photos or videos that could hurt someone else.
This visual by Kathleen Morris might provide some useful reminders. While there are many things that definitely shouldn't be shared in your blog posts (YAPPY), there are some grey areas. We recommend you think before you post and always discuss anything you're unsure about with an adult before posting.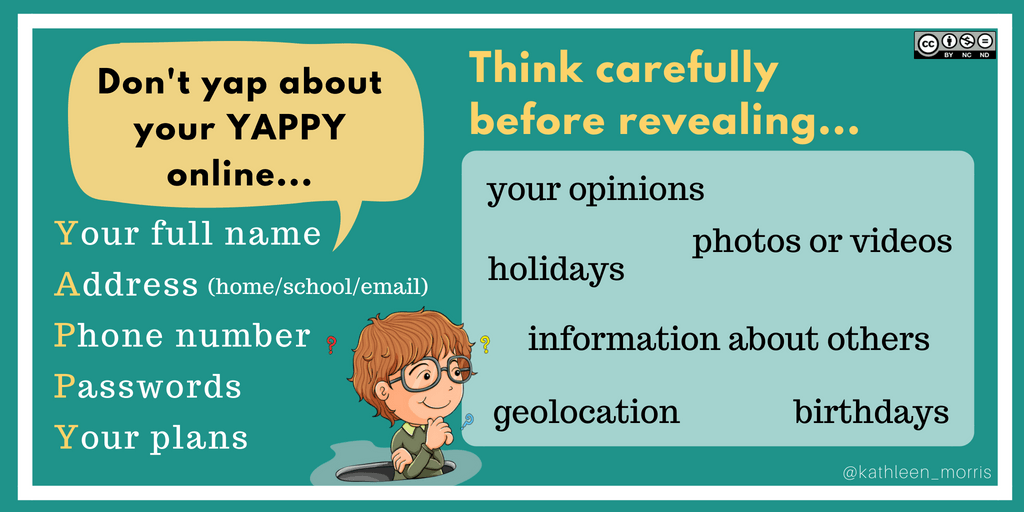 How to publish a post
1.  Go to Posts > Add New.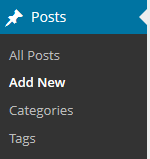 2.  Give your post a title and click Save Draft.
3.  Add your content.
Make sure you regularly click Save Draft as you write your post.
4.  When finished writing click Publish or Submit for Review.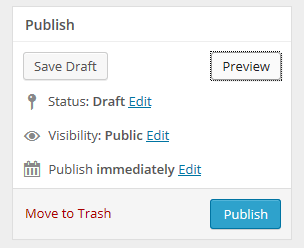 5.  Your post will now display on your blog so others can read!
Below is a quick video tutorial on publishing a new post:
Previewing your Draft
Before you publish your post it is a good idea to use the Preview option to see what it looks like to your readers.
You preview a post by clicking on Save Draft and then click Preview. This opens up a draft version of your post in a new tab.
Then just go back to your draft and make any changes you want!
Introduction to the visual editor
The area where you write your post is by default in Visual Editing mode which uses WYSIWYG (What You See Is What You Get) option for formatting.
It works similar to any Word processing software.
Simply write your post, highlight any text you want to format and then click the appropriate button in the toolbar to add formatting such as bold, italics, number list.
The Toolbar toggle icon is used to view the advanced formatting options including heading styles, underlining, font color, custom characters, undo, redo.
You switch between Visual Editing mode and HTML editing mode by clicking on the Visual or Text tab.
Below is a quick video tutorial on the visual editor:
Putting it all together
Feel free to print the following PDF guide on how to publish a post, or download it to your computer.
Tips for writing better blog posts
Reading online is different from reading in a text book.
The easier to read and more engaging your posts are the more likely they'll be read and the better your message will be conveyed.
Here are some tips to help you write better posts:
#1 Use Categories and tags
Categories and tags on posts help readers locate content on your blog.
Categories are like chapters of a book; they provide a general overview of the topics you blog about. Whereas tags are more like the index at the back of the book and explode the topic into a million bits.
For example, you might use a category for each school subject such as: English, Math, Science, PE, English, Drama, Design, Art and Random.  The Random category is used for posts you publish on topics that you are passionate about that may not be school related.  Say you wrote a book review on 'Harry Potter and the Philosopher's Stone' you might assign it the category English and tags might be J.K Rowling, Fantasy Fiction, Harry Potter.
Categories and tags are normally displayed at the top or bottom of the post and using the Category widget and tag widget in your sidebar.  You will be adding these widgets in Step 6:  Add Widgets.
When your readers click on a categories or tag link on a post or in your sidebar, it loads a page with all posts that use that tag or category.
On a post you can add as many categories and tags as you need to make the post easier to locate.
Categories and tags are added before you publish a post as follows:
1. Select the category you want to use or create the new category using Add New Category.
Click on Add New Category.
Type in the new category and then click on the Add New Category button.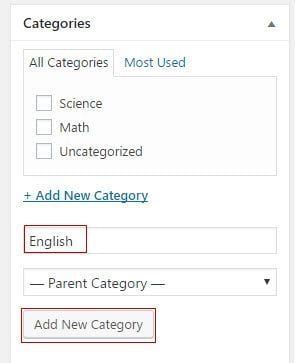 You should see that category selected in the Category module.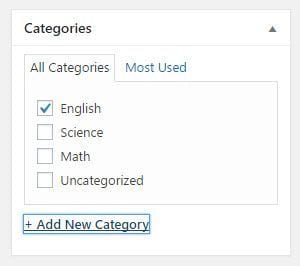 2.  Now add your tags by entering your tag terms with each tag separated by a comma and then click Add.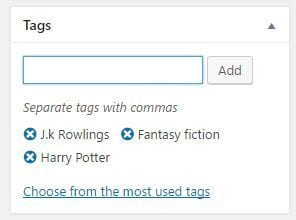 Your tags should look like this:

#2  Use short paragraphs
Posts with really long paragraphs are harder to read online.
Best options are:
Break your posts up with paragraphs.
The more paragraphs the better.
Short paragraphs are better than long.
If you need to make some paragraphs one or two sentences long so they are visually easier to read online then do it if needed!
Make the first sentence of each paragraph make your readers want to read the rest of the paragraph.
#3  Use Headings
Use headings, and where appropriate bullet points and number lists, to break up the post into manageable bite sized chunks.
You create a heading as follows:
1. Highlight the text you want to change into a heading.
2.  Select the Heading Style you want to apply from styling drop down menu.
Heading 3 works the best for most themes.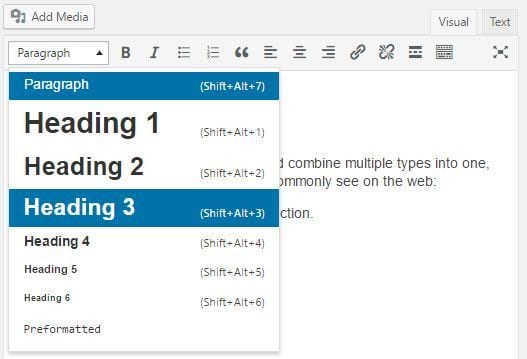 3.  The text you highlighted should now be a heading and look different from the other post text.

4.  Preview your post to make sure that headings you've used have broken your post into easily read chunks of text.
Below is a quick video tutorial on heading styles:

#4  Remember to Link
When you write about a website you should link to it as your readers often want to check it out in more detail.
You add a link as follows:
1. Copy the URL of the website you want to link to.
2.  Highlight the text you want linked to the website and click on Insert/Edit Link button.
3.  Paste the URL into URL box and then click Apply.
4.  When you view your blog you should now see the text is now linked in your post.
Below is a quick video tutorial on adding a link:
#5  Using colored text
Colored text is sometimes used to engage readers and draw attention to specific information in posts.
You'll see examples of it used in posts on the Student Challenge blog.
You change the color of text as follows:
Highlight the text you want to change
Select the text color you want to apply from the advanced formatting toolbar (you access the advanced formatting toolbar by clicking on the Toolbar toggle icon)
Preview your post to make sure the text is readable and you like the color.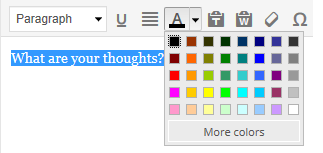 YOUR TASK
Blogging is about sharing, collaborating, and learning from each other. Here's your chance to ask a question, comment, and get involved!
Complete the following tasks:
Create an avatar using an online avatar tool and upload it to Users > Your Avatar.
Publish your first post or submit a post as pending review for your teacher to check. Your first post might be about why you are blogging, what you will be writing about in your blog or you could write a post about your avatar, how it represents you and which website you used to create your avatar.  Check out My New Avatar (and my tenth post!) to see how Brianna wrote about her avatar.
Leave a comment on this post and tell us how you went creating your avatar and writing your first post. Remember to leave a link to your post in your comment so we can have a look at your new post.