Edit: Registrations are now closed. Join us for a new 10 week challenge beginning in October, 2019. Registrations will open in September.
The next Student Blogging Challenge is set to begin on March 3! This is a way for students to learn about blogging while connecting with others around the world.
Read more about the challenge here.
Registrations for classes and students will open on February 10. Sign up for email updates if you haven't already.
Right now, we're looking for a team of adult volunteer commenters. Can you help?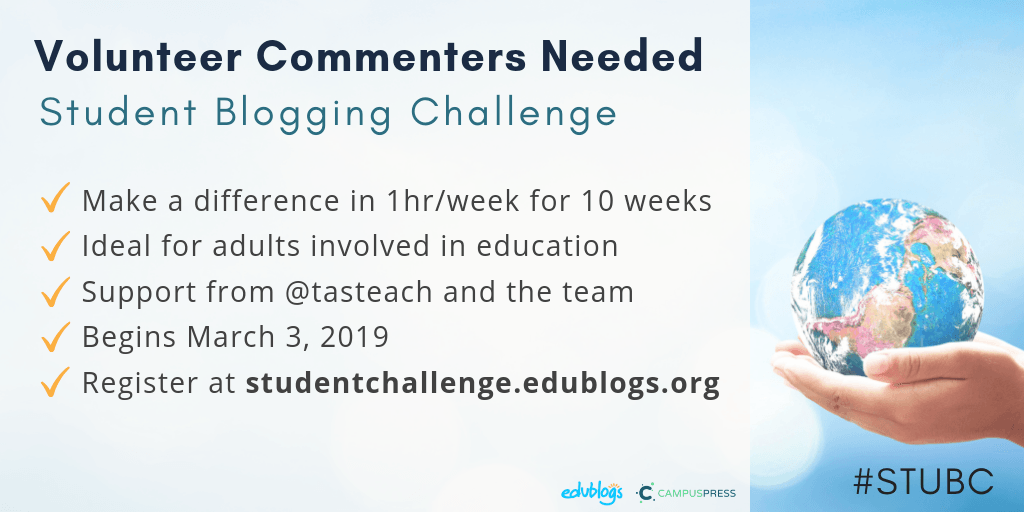 New Video!
Here is a one-minute video message I recorded to help spread the word about our call for commenters. Could you share it with your colleagues or PLN?
The more commenters we can get on board, the more support our participating students will receive!
Note: Older students can also be commenters if they've participated in the Student Blogging Challenge twice or are invited by organizers. Students are welcome to get in touch if this appeals or they have questions.
Registration Information
Who can register?
Commenters need to be involved in some field of education.
Commenters can be:
classroom teachers
homeschool teachers
principals or school leaders
administrators working in education
trainee teachers
retired teachers
educational coaches or trainers
university staff working education
regular bloggers about educational matters
children's authors who have their own website
students who have taken part in at least two sets of previous challenges or invited by organizers
FAQs
Before filling in the registration form below, please read the following information. Click here to save a copy of the PDF to your computer.
Ready to volunteer?
Thank you! Just go through the following steps.
Mailing List: Make sure you've signed up for our mailing list to get all the Student Blogging Challenge news sent to you as well as the weekly posts. Click here for the mailing list sign-up form.
Form: Fill out the form below to register as a commenter.
Confirmation: Our commenting team leader, Sue Wyatt, will contact you via email or Twitter to let you know if you've been accepted. Sue will email the commenting team with more instructions and information prior to the challenge beginning on March 3.
Simply fill out the form below or click here to open it in your browser.
Any questions? Leave a comment below and we'll get back to you!
Please also remember to share this post with others who you think might be able to register. Thank you!