Some people think blogging is all about reading and writing but it doesn't have to be. You can integrate any subject into blogging.
This week we're zooming in on science and there's something for everyone!
Week Five Recap
There were lots of great responses to our tasks about similarities and differences.
You can find all the submitted tasks here (or click on the week 5 box on the sidebar).
Many of these posts are interactive so the students would love to get a comment from you!
Let's take a look at just some of the fantastic work we spotted last week:
Remember — if you use a tool to create something, it's a good idea to provide your readers with the link to the site so they know how you did it.
Reminders
There are a few things to take note of this week:
The forms for weeks 1-3 tasks are now closed. You're still welcome to complete these tasks at any time but won't be able to submit them as our commenters are busy working through the posts for the later weeks.
Please moderate your comments as regularly as you can. Comments are a great way to connect and learn! Teachers, find out how to moderate comments on My Class here. 
Consider adding a widget to your blog that displays your latest comments. You probably want to show around 10 of your latest comments so will need to change your settings. Here are the instructions for Edublogs/CampusPress. 
Falling behind? Don't worry! You can complete your tasks late, or skip some tasks. Next week will be a catch up/free choice week!
Not getting many visitors? Make sure you submit your task in the weekly Google Form. Also, check out the tips about encouraging visitors in the week four post.

Those who are commenting on others' blogs are finding they're getting more visitors.
Results Of Our Language Poll
Last week we invited you to take our quick language poll to see what languages our participants speak.
While English is the predominant language, there were a LOT of languages represented in our STUBC community. How wonderful!
We had nearly 800 responses! (I have now closed the poll).
Here are the top ten languages represented:
English 94.8%
Spanish 20.5%
French 12.5%
German 4.5%
Mandarin 3.1%
Italian 2.9%
Russian 2.8%
Arabic 2.2%
Portuguese 1.8%
Japanese 1.3%
Let's take a look at this week's topic…
Science
Do you have science classes at your school? Even if you're not formally studying science, science is all around us!
Learning about science just means understanding our world better. Scientists learn about the world by describing, observing, and experimenting. Anyone can be a scientist!
Want to watch a short overview of the nature of science? This 3 minute video might help.
The Branches Of Science
The great thing about science is there are so many different fields and topics. Perhaps there are some areas of science you find very fascinating and others that aren't really your cup of tea.
There are three main branches of science that are further divided into different categories.
The Physical Sciences: This includes things like physics, chemistry, and astronomy.
The Earth Sciences: This includes things like geology, paleontology, and meteorology.
The Life Sciences: This includes things like botany, medicine, and zoology.
What areas of science interest you? Task one involves blogging about this.
Why Learn About Science?
Here are 8 great reasons why children should enjoy science more (created by psysci.co).
Do you have any more ideas why science is important? Leave a comment or write a blog post about it!
Week Six Tasks
This week there are five science related tasks to choose from.
Our graphic summarises the tasks and I will explain each task in more detail below.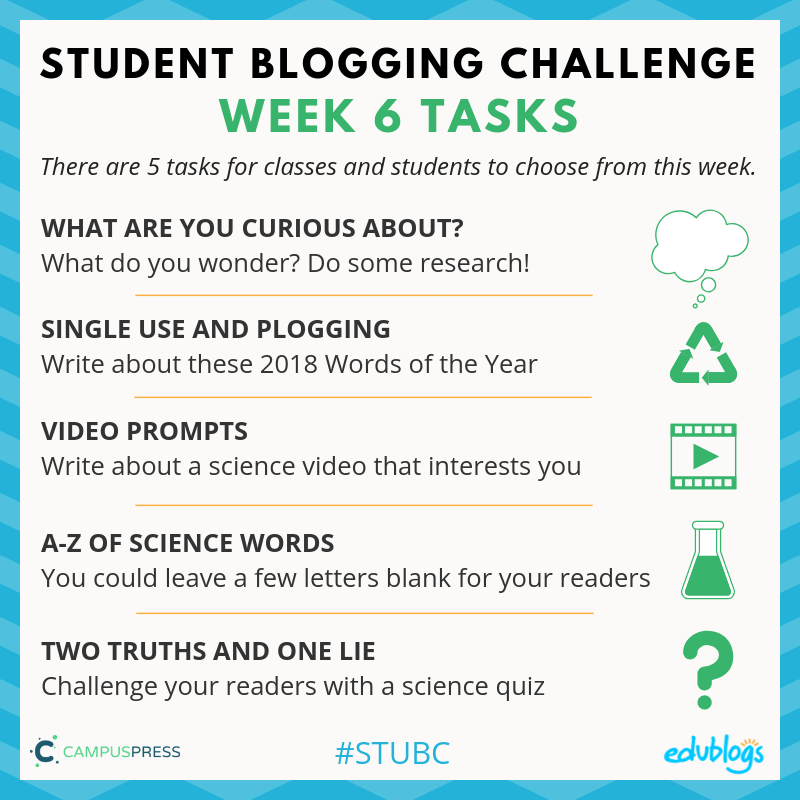 Task 1: What Are You Curious About?
For this task, consider what you're curious about and write a blog post about it.
Are there any particular scientific fields that interest you? Perhaps you could do some research into the different areas of science. Maybe you could explain some different scientific fields.
Look around you. What do you wonder? Maybe you're curious about how the internet works or where rain comes from or life on Mars?
Do some research and write a blog post about what you find.
Task 2: Single-Use And Plogging
This week, Collins dictionary announced their Word of the Year — "single-use".
This was their announcement on Twitter…
BREAKING! The Collins Word of the Year 2018 is… single-use ♻️ Discover the full shortlist & find out more: https://t.co/zPFXYBvXzb #CollinsWOTY #WordOfTheYear pic.twitter.com/gojH2f4P8Z

— Collins Dictionary (@CollinsDict) November 7, 2018
There has been a rise in public awareness about plastic pollution recently and many communities are taking a stand. For example, in most parts of Australia, the major supermarkets and other stores no longer provide free plastic bags.
Continuing with the environmental theme, one of the shortlisted words was "plogging"
ICYMI: PLOGGING shortlisted for #CollinsWOTY 2018! Click here to find out more: https://t.co/zPFXYBvXzb #WordOfTheYear pic.twitter.com/ppjyBa1L67

— Collins Dictionary (@CollinsDict) November 8, 2018
You can read more about the Word of the Year here.
Your task is to write a post about "single-use", "plogging" or any other environmental issue that interests you.
Perhaps you could:
Write a persuasive piece about why single-use items are a good/bad idea.
Make a poster encouraging people to recycle, re-use, or try plogging.
Do some research into plogging and write a 'how-to' for others.
Explain what initiatives operate in your community or school to help the environment. Do you have a recycling service? Do stores offer you plastic bags? Can you recycle soft plastics to be made into things like playground equipment (for example, we have the REDcycle program that does this).
Any of the above ideas could also be adapted into videos if you're feeling especially creative!
Task 3: Video Prompts
There are lots of great science videos online.
Here are two examples:
Find a video that interests you, then write a blog post about it. 
You might write a summary of the video and include your own thoughts or questions. Or, you can make a quiz for your readers about the video. Invite them to answer the quiz in a comment.
Remember to include the video in your blog post. Find out how to add a video from YouTube using Edublogs/CampusPress here. (Tip: If you have a free blog, use the URL method).
If you're working as a class on this activity, the teachers could publish a video (or a selection of videos) and have the students write their responses as comments. 
Task 4: A-Z Of Science Words
Science can involve a lot of terminology or interesting words.
Your task is to make your own A-Z of words relating to science. You could even leave a few letters blank and ask for suggestions in a comment.
For example…
A is for astronomy: the study of outer space
B is for bunsen burner: a device commonly found in a science lab for heating
C is for carbon dioxide: the gas formed when humans or animals breathe out
D is for data: the facts or pieces of information a scientist uses
If you're working as a class on this activity, perhaps all the students can be given a letter and come up with some terminology to include. 
Task 5: Two Truths And One Lie
Challenge your readers with a simple "two truths and one lie" quiz.
Your task is to write a post that includes two correct statements and one incorrect statement. Ask your readers to guess the lie!
For example, you might say:
The smallest bone in the body is found in the middle ear.
An archeologist studies the atmosphere and weather patterns.
The blue whale is the largest animal in the world.
Can you guess which one is not true?
Do some research in a book or online to make sure your information is accurate. If you use a website, include the link in your post.
If you're working as a class on this activity, perhaps each student (or pairs) could make a contribution to a Google slide presentation as I did last year. 
Submit Your Post URL ⬇
If you want a commenter and other participants to visit your week six post, remember to fill in the Google Form below.
Remember to include the URL of the actual post (copy and paste it so it's correct).
The Google Form
Teachers, feel free to put the link to this Week 6 Google Form on your own blog if you'd like.
https://goo.gl/forms/QTuTwShLYiKb99EH2
---
Next week's topic: Catch up or free choice.