Have you checked out our Flipboard magazines yet?
It's time you did!
Each week we are adding the best and most interesting posts published to our Sept 2013 Flipboard magazine.  Your post may be featured already in our magazine!
All you need to do is remember to fill in the form at the bottom of the Challenge Blog weekly post.
Then check the Sept 2013 Flipboard magazine towards the end of the week!
To see if your post has been featured and to read posts from other challenge participants.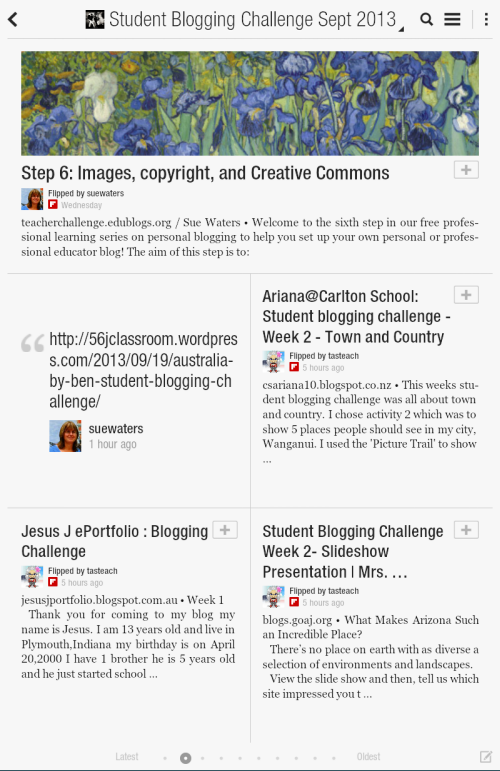 Check out the March 2013 Student Challenge Magazine here!
About Flipboard
Flipboard was originally designed as a social network aggregation, magazine-format app for iPad in 2010.  It is now the most popular of the magazine-like content aggrregator apps for iOS, Android, Kindle and Nook.
The Flipboard magazine feature is a powerful tool for educators:
A Flipboard magazine lets you quickly curate and share articles you like directly to your own magazine from within Flipboard (or using the Flip It bookmarklet in your web browser) while also sharing the articles with  your social networks at the same time!
Other Flipboard users can subscribe to your Flipboard magazine(s) allowing them to easily read the articles you like to share.
Flipboard magazines can be enjoyed on the web so that any one who clicks on a link can read your magazine using their web browser regardless of whether or not they use Flipboard.
Watch this video to learn how to create a magazine using Flipboard.
Refer to the following information to learn more about Flipboard: