Below are a few tips that will help the challenge to run more smoothly.
1. The main complaint I receive is about privacy settings and readers not being able to leave comments on posts.
Edublogs or campus users – So that your visitors can leave comments easily, make sure your blog privacy is set to either:
Allow search engines to index this site.

Discourage search engines from indexing this site.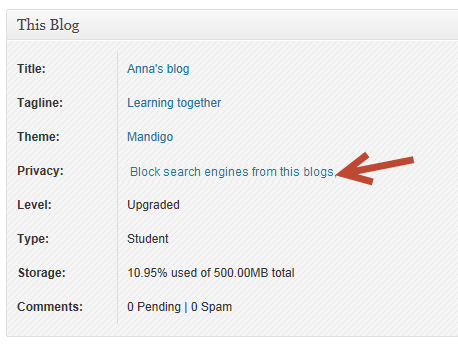 Teachers you need to change your privacy as follows:
Class blog – change privacy in Settings > Privacy (Edublogs Campus blog)
Class blog- change privacy in Settings > Reading (Edublogs Pro blog)
Student blogs attached to My Class – change privacy for student blogs using My Class > Settings.
Students please discuss your blog privacy with your teacher if you are using a student blog.
Blogger or blogspot users – Please make  sure you have Name/URL as an option for visitors to use when leaving a comment. Not everyone has a Google account. When someone leaves a comment, moderate your comment rather than have them fill in the anti-spam word.
Kidblog users – Please make sure visitors can read and comment on posts without having to login.
2. Students – please make sure there is a link to your class blog on your sidebar somewhere.
If you are using Edublogs or Edublogs Campus, and are attached to a class blog using My Class, go to Appearance > Widgets and add the class blog widget to your sidebar.
3.  Fill in the form at the end of each challenge post each week if you want your post to be selected to go in the Flipboard magazine for September 2013.
You can check out our March 2013 Flipboard magazine here!
4. Visit other students and classes every week. You might get some good ideas for posts from other blogs.
5. If you want to be reminded when a new post is published, fill in the Subscribe by email widget on the sidebar.