Hello!
I'm Sue Waters. This October, Kathleen Morris and I will be guiding you through the next Student Blogging Challenge with support from challenge founder, Sue Wyatt, and the Edublogs team.
The Student Blogging Challenge runs twice yearly beginning in March and October. The next challenge runs from October 6 to the end of November.
The Student Blogging Challenge is totally free and a fun way for students worldwide to learn and connect. The challenge is most suitable for students aged around 8 to 16.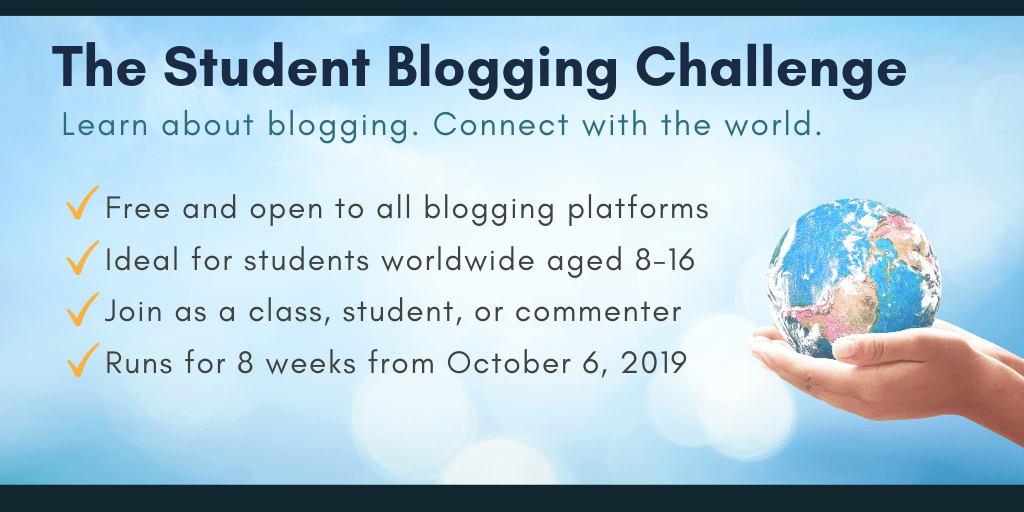 Sound Interesting?
Registrations open in September and you can join our mailing list to stay up to date with all the challenge news. Simply fill out the form below or click here to open the sign up form in a new tab.
Student Blogging Challenge Schedule
At the end of each challenge, we survey teachers and students. We're making a few changes this time based on feedback.
We're reducing the challenge from 10 weeks to 8 weeks. However, you can go at whatever pace suits you.
We are releasing the schedule before the challenge starts to help with your planning. The first three topics are the most important but feel free to mix and match as suits.
We're repeating the most popular and important weekly topics from recent challenges based on feedback.
Here's the list of the weekly tasks and the release dates:
Click here for a PDF copy of the schedule.
Remember, you can pick and choose the tasks and timelines that suit your students! For example, if you only have your students once a week you can choose to take part every second week or organize to complete the challenge with other classes over a longer period of time.
While You Wait … Get Ready!
You don't need to have any blogging experience to participate in the challenge; however, we do recommend getting a head start with setting up your blog earlier. By doing this, you may find that you'll get more out of the challenge.
The two best ways to get your blog set up are via our free self-paced courses:
Student Blogging Bootcamp (for students) — This course guides students through the process of setting up and using their own blog. You might like to assign all/parts of the bootcamp to your students before the challenge begins.
Blogging With Students Teacher Challenge (for teachers) — We walk you step-by-step through the process of setting up a class blog and blogging with students.
Learn More
Download a PDF version of the Frequently Asked Question guide here.
Head over to our About Page to learn more about the challenge.
If you're unsure about what your students might get out of the challenge, check out this post on The Edublogger. We go through 8 key benefits!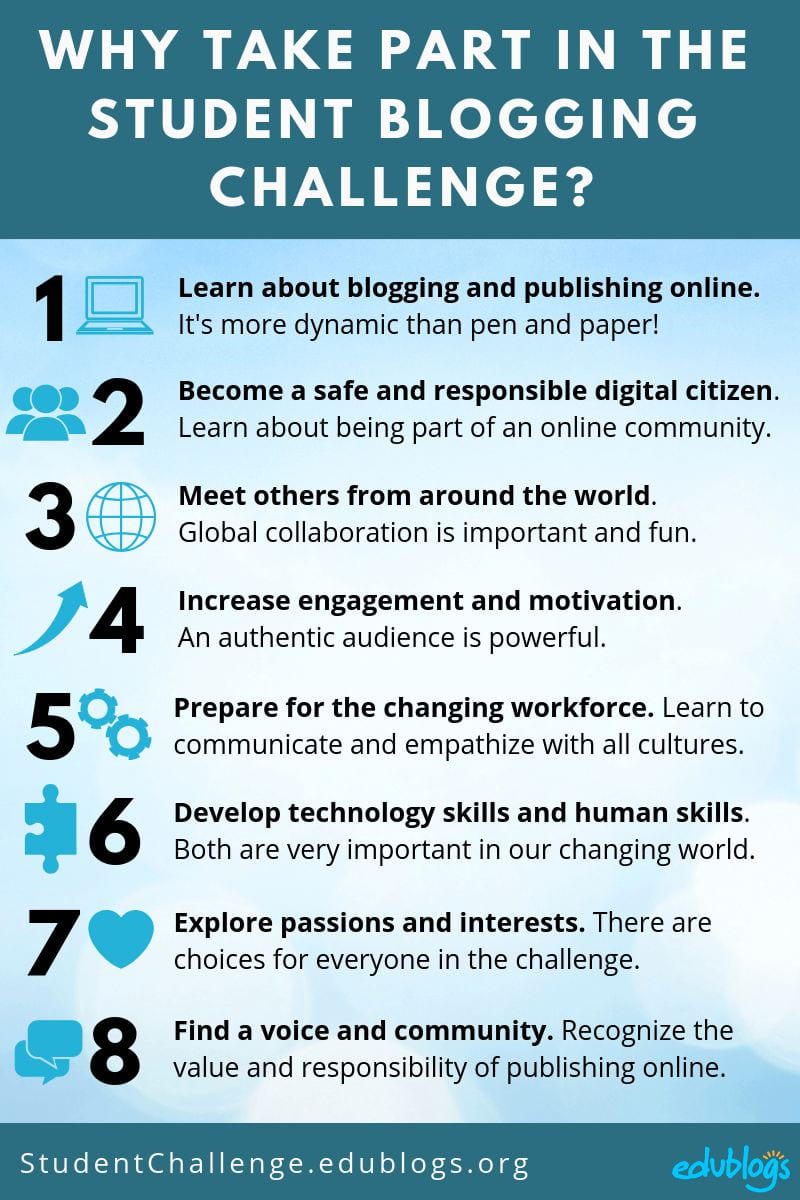 Questions?
Feel free to leave a comment below if you have any additional questions and we'll get back to you.
Hope to have you and your students involved in the next Student Blogging Challenge!