How are you going with the first week of the Student Blogging Challenge?
Usually, we publish a new post every Sunday but you'll remember our first week is running for two weeks (we have lots of latecomers joining us due to global school closures).
Week two will be posted next Sunday March 29th.
Today I'm just sharing a few reminders and updates.
You'll also find 5 ideas to work on if you've finished the week one tasks and you're looking for more to do! These are totally optional.
Know anyone who wants to register?
If any of your friends want to join us for the Student Blogging Challenge, they have until April 5. Send them the links below to register:
Teachers, remind your colleagues that the Student Blogging Challenge is ideal for online remote learning. The hard work has been done for you!
Participants Update
Our participant numbers have risen a lot over the last week. Welcome to all our new students and teachers!
Currently, we have nearly 900 individual students and 100 classes registered.
Our participants represent 24 countries and 5 continents.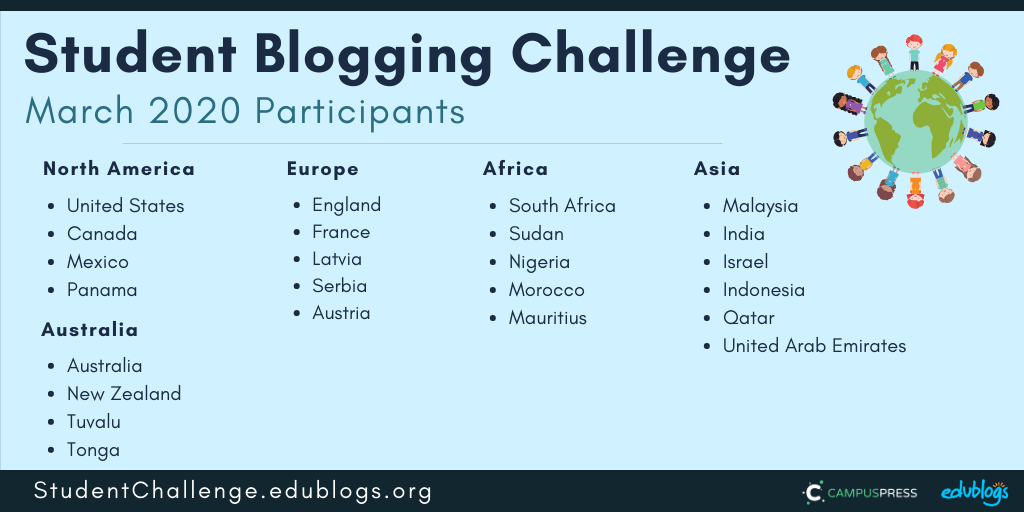 Week One Tasks Recap: Getting To Know Each Other
Here's a recap of your week one tasks:
Making an avatar (and there are a few choices for extra avatar activities)
Creating or updating your About page
Making connections with other students
You'll find more details about these tasks in the week one post.
Reminder: If you use Edublogs, for the Avatars task don't use the post title "Avatars". You can't use Avatars for a post URL on Edublogs as it is blocked. You can use Avatar or My Avatars or any other creative variation!
💡 Excellent page idea from a teacher
Kebra Panko is a fifth grade teacher in Kansas. She has set up a page on her blog that simplifies the week one Student Blogging Challenge tasks. She's added quick videos for her students too.
Check out Kebra's "Week 1/2 Help" page. 
She also has instructions on a page for adding a badge and visitor counter widget.
Check out Kebra's Cool Add Ons" page.
Take a look! You might be able to use these resources or do something similar.
Some notable posts and comments
140 classes and students have submitted tasks for week one so far.
Here's just a sample of some of the great work coming through.
Samanta from United Arab Emirates included a quiz at the end of her About page.
Jade used an app to make her avatar and she tells you about it in a post.
Evelyn in Canada is participating again by herself, by choice! She has a great post about avatars.

Molly

from New Zealand made a family of avatars.

Sebastian

from USA has a very interesting About page with text and a poem.
Check out more work by viewing our spreadsheet. Click here or use the green box on the sidebar of the homepage. It looks like this 👇🏽 On a mobile device it might show up at the bottom of the screen, rather than the side.
Reminders
Teachers, have you joined our Facebook group? Some people are requesting to join and not answering the questions. Please answer these as we can't let people in unless we know they're part of the challenge. Join the group here.
If you're new to the challenge, remember to read our four step weekly process here.
Don't forget to submit tasks to our Google Form. This is so our commenters can check the posts/pages and leave a comment. You'll find the form at the bottom of the week one post or here is the direct link https://forms.gle/9C3z1X6jJHNsPbSM8
Would you like comments on your blog pages? Make sure commenting is enabled on pages. It is turned off by default on WordPress/Edublogs/CampusPress blog. Instructions are here. 
Can visitors leave comments on your blog posts without logging in? Double check this. If you're using Blogger, make sure anyone can comment using the Name/URL option (so they don't need a Google Account). Blogger commenting instructions are here.
Have you added the challenge badge to your sidebar? There is a post showing you exactly how to do this. Click here to go to the badge post.
Please moderate comments regularly — at least once a week if not once a day. It's in the comment section where the most powerful learning and connections can take place!
Finished All The Week One Tasks?
Here are some ideas of what you might like to work on this week:
Comment, comment, comment. Look at the spreadsheet of student work that has been completed and choose a few blog posts to visit. You might want to include a link to your own blog and encourage them to visit you as well. When you're commenting you might also get ideas from other bloggers for new posts to write or tools to use.
Document this unique time in history. The COVID-19/Coronavirus pandemic is changing the world in so many ways. It's probably something you'll end up telling your children or grandchildren about in the years to come. Perhaps you'd like to write a post (or series of posts) documenting your experience (What do you know about the virus, what does it mean for you, your family, and community? How has everyday life changed? How do you feel about the pandemic?).
Go on a virtual field trip. With schools closed in many parts of the world, some students are trying out virtual field trips (zoos, aquariums, museums, and landmarks). Here is a list of places you can visit. Try one out and write a post about it.
Try an online read aloud or live activity. Lots of authors are currently doing online read alouds or other activities (for example Mo Willems is running live drawing lessons). There is a list of ideas here. Try one out and write a blog post about it.
Add a widget to your sidebar. The term widget refers to any tool or content that you add, arrange or remove from the sidebar(s) of your blog — these are the blocks that make up your sidebar. Choose one widget from the 40+ popular widgets for your blog and add it to your sidebar. Most of these widgets are added by pasting their embed code into a text widget. Warning: don't go crazy with widgets! It'll slow down your site and distract readers from your blog posts.
Remember: These ideas are 100% optional! You might also have your own ideas for extra blog post topics or pages you'd like to add.
If you do complete an extra activity, you're welcome to submit it in the week one form so our commenters can check it out. 👇
https://forms.gle/9C3z1X6jJHNsPbSM8
---
Next topic (March 29): Connect Through Commenting