We're almost at the halfway mark of the Student Blogging Challenge!
Let's get to know each other more this week and try out some fun activities.
Week Four Recap
Our emoji post proved popular and there were hundreds of great tasks submitted!
You can find them all here (or click on the orange box on the sidebar).
Let's take a look at just some of the fantastic work we spotted last week:
Remember — if you use a tool to create something, it's a good idea to provide your readers with the link to the site so they know how you did it.
Special Shout Out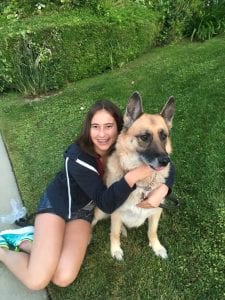 All teachers know how great it is to hear from former students. This weekend I was so happy to hear from not one of my students but one of Linda Yollis' former students!
Back in 2011, Miriam was a role model 3rd grade blogger. She's now a college student who is running a creative writing club for children at her local library.
Miriam is back blogging after all this time!
This is my second year with the writers club at my library and I decided to try to add blogging so that the children both in the club and anywhere in the world could contribute to the conversation.
Would you take a moment this week to drop by Miriam's blog and say hi? If you leave your blog URL she will no doubt be happy to visit your blog as well!
Tip: She introduces herself in this post.
Reminders
There are a number of important reminders this week:
We are now going to close off the forms for week one and two tasks. You're still welcome to complete these tasks at any time but won't be able to submit them as our commenters are busy working through the posts for the later weeks.
Some people have put a link to a Google Doc/Slide presentation in their post BUT it can't be viewed without logging in. If you share a link to a Google Doc, you need to change the settings so anyone can view it without logging in.
Please moderate your comments as quickly as you can. Some blogs have comments that haven't been approved in over a week. Comments are a great way to connect and learn! Teachers, find out how to moderate comments on My Class here. 
Consider adding a widget to your blog that displays your latest comments. You probably want to show around 10 of your latest comments so will need to change your settings. Here are the instructions for Edublogs/CampusPress. 
Do you have Spanish speaking students? Michelle has a 13 year old student who'd like to connect with other Spanish speakers. If you can help, please get in touch with Michelle by leaving a comment here.
Falling behind? Don't worry! You can complete your tasks late, or skip some tasks. Week seven will be a catch up/free choice week too which will offer you some breathing room.
Not getting many visitors? Make sure you submit your task in the weekly Google Form. Also, check out the tips about encouraging visitors in the week four post.

Those who are commenting on others' blogs are finding they're getting more visitors.
Let's dive into this week's topic…
Similarities And Differences
We have a diverse group taking part in the Student Blogging Challenge. Even though we live in all different parts of the world, we have many similarities as well as differences.
Blogging is a great way to connect with people that we might otherwise never meet!
At last count, we had students and classes from 27 countries and 6 continents registered for the challenge.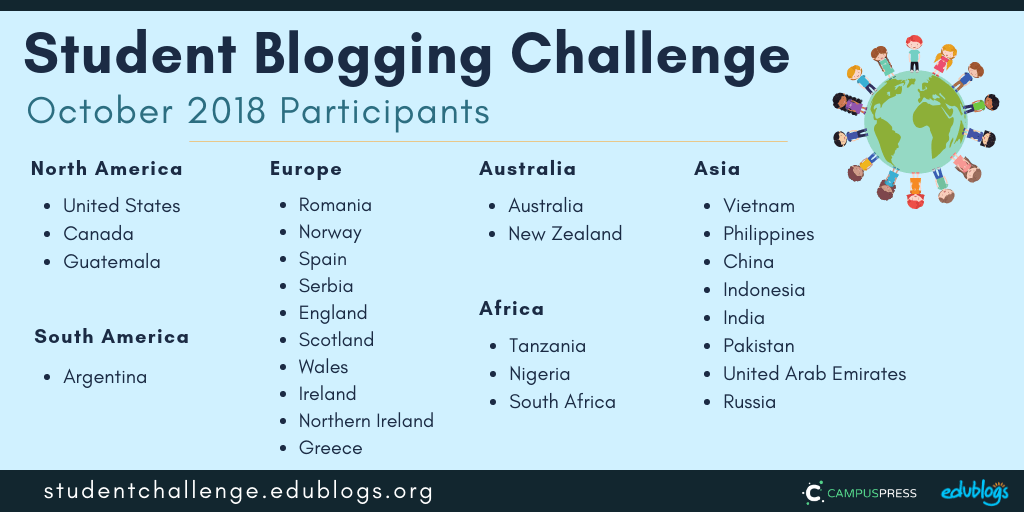 Why Learn About Similarities And Differences?
It's important for all children and adults to understand that everyone around the world is different and that's okay. We need to be respectful and accepting of everyone, whether they're the same as us or very different.
Even though we might look different, live differently, and enjoy different things, we're all the same on the inside. We're all humans!
It's super fun to hear about how other people live and what sort of things they enjoy or their everyday routines.
If everyone was the same, the world would be pretty boring. Differences in beliefs, cultures, skills, and interests can enrich our lives and bring new ideas to our world.
If you respect and get along with all sorts of people, there are many benefits. You'll have more friends and enjoy living in peace. The world will become a better place.
As students grow older, they can enjoy working in a global workforce. At Edublogs, we have people from all over the world on staff. More and more companies are working this way. Geography is no barrier.
Any other ideas? Leave a comment! I'd love to hear your thoughts.
Quick Language Poll
We know we have students from all over the world taking part in the challenge. Most (not all) are writing their blog posts in English, however, there are lots of participants who can speak another language.
We'd love to know what languages you speak! Take our quick poll below.
Edit: This poll is now closed. The results will be shared in the week 6 post.
Week Five Tasks
This week there are four tasks to choose from that are all about similarities and differences. 
Our graphic summarises the tasks and I will explain each task in more detail below.
As this topic hasn't been used as part of STUBC before, we don't have actual student examples to show you this week. 

Task 1: Two Types Of People…
I recently came across a fun website called 2 Types of People. It shows a series of illustrations that categorise people into two broad groups.
I reached out to the creator João Rocha who kindly said we could use his images for the challenge.
Here are some of the images.
Now make your own image or series of images!
Come up with something that you think categorises two types of people and make an image. Add the image to your post and ask your readers to comment.
How will you make your image?
You could try a tool like Google Drawings, Google Slides, PowerPoint, Adobe Spark, or Canva. Just save your creation as a PNG or JPEG and upload it to your blog like any other image.
Or you might have software on your computer (like 3D Paint in Windows) or a drawing app.
You could also use some of the websites we mentioned in week three to find free images.
You can even draw your own images, take a photo, and upload it to your blog.
Here's a very quick example of an image I made using Canva. (Canva can be used by under 13s with supervision).
If you're working as a class on this activity, perhaps each student could make an image and the teacher could add them to a series of blog posts or a Google Slide presentation. Readers could be invited to comment and tell the class what 'sort of person' they are. 
Remember, Alethea Vazquez has a tutorial on how to put a Google Slides presentation together. 
Task 2: Get To Know Your Readers
Sometimes blogging can be a little 'one way' — the blogger writes the posts and the readers read them. But it doesn't have to be this way.
You can get to know your readers and learn more about your similarities and differences!
There are a few ways you can do this. Here are some ideas:
Make a poll for your readers like the 'What Language Do You Speak?' poll I added above. I used Google Forms to create this.
Interview a Student Blogging Challenge participant, a classmate, or a family member and record some of your similarities and differences in a blog post. You could make a Venn diagram using a tool like this one from ReadWriteThink (see the example below).
Write a post with one or more questions that you'd like your readers to respond to in a comment (remember to reply to your comments). Your questions could be things like:

What are your favourite sports?
What fruits or vegetables do you like best?
What do you like to do when you get home from school?
What makes you happy/sad?
What activities do you like doing with your family?
Where is one place in the world you'd like to visit?
Anything else! 
You could also visit some other participants' blogs and ask them questions in a comment.
Note: You can save your Venn diagram as a PDF but I took a screenshot instead. (This article shows how to take a screenshot on any device).
Task 3: Books
One of the great things about reading is you can feel like you're "walking in someone else's shoes".
Fiction can play an important role in helping you learn about different types of people and different perspectives.
There are some great books out there that encourage young people to think about similarities and differences.
This task involves writing a book review or book response.
Activity for classes
Read a book together that explores similarities and differences and then write a response.
The teacher could write the post and the students could comment. Or, the students could write their own reflections which could be shared in a post (or series of posts).
You could use any book but here are just two suggestions:
This is one of my favourite books by Mem Fox which could be a handy prompt for younger students (under around 10). It's called Whoever You Are.
Click here if you can't see the video above.
Another great prompt might be Mirror by Jeannie Baker (thank you to the fabulous teacher librarian Kim Yeomans for this recommendation. Check out her blog, Wild About Books).
This book is actually wordless but tells a powerful story for all ages nonetheless.
Click here if you can't see the video above.
Activity for students
Write about a book you've read where the character was very different from you. Maybe they lived in a different place, had different interests, had a different family structure or so on.
Don't forget to include the important details like the author and full title.
Invite your readers to leave a comment. Make your questions "open ended". So instead of just, "Have you read this book?" You could invite readers to tell you about their favourite book or author.
Task 4: Music
Music can bring people together! You might find you a have a similar taste in music to someone else. It can be a good conversation starter. 
Or perhaps your taste in music is very different from someone. That's okay too!
This task involves writing a post about your favourite type of music. You can add a video clip of a favourite song if your teacher agrees.
Find out how to add a video from YouTube using Edublogs/CampusPress here. (Tip: If you have a free blog, use the URL method).
Example of an embedded YouTube clip
I've been teaching music to prep (kindergarten) students so we've been finding some lots of fun songs. I really like this one because we all enjoy doing the actions.
It is called The Silly Song and is by an Australian group called The Fairies.
If you're working as a class on this activity, perhaps you could have a class vote about your favourite types of music and share some information in a collaborative post. Or students could write their own piece about their favourite type of music and the teacher could publish these in a series of posts. 
Submit Your Post URL ⬇
If you want a commenter and other participants to visit your blog, remember to fill in the Google Form below with the URL of the post you published for this week's task.
If you complete more than one task, please choose your favourite one to submit.
Remember to include the URL of the actual post (copy and paste it so it's correct).
The Google Form
Teachers, feel free to put the link to this Week 5 Google Form on your own blog if you'd like.
Edit: This form is now closed. You're still welcome to complete these tasks at any time but won't be able to submit them as our commenters are busy working through later tasks.
---
Next week's topic: Get ready for some fun with science!