The aim of this third activity is to:
Help you understand how pages are used on blogs.
Set up an About page on your blog.
Introduction to pages
Pages on blogs are normally used for information that you want to share with your readers but don't expect to update frequently. The main things to remember are:
Pages are best suited for information you rarely update such as your About and Commenting Guidelines page.
Information you want to share with others, such as your interests or what you learned in class, or questions you want to ask readers are normally published as posts and not on a page.
Posts are automatically fed into the Reader in your dashboard where other students from your class can easily read and comment on your posts (if your blog is connected to a class blog via My Class).  Pages don't appear in the Reader and are only viewed when someone visits your blog.
Watch this video to learn more about the difference between posts and pages.
What is an About page?
One of the first things a new visitor to your blog looks for is your 'About' page. Your 'About' page tells readers more about the person who is writing the blog posts.  An 'About' page is like meeting someone for the first time — it is the way a blogger introduces themselves to their readers.  Does the person have similar interest to me?
About Page ideas
About pages can be as simple or as creative as you would like. Check out these examples of About pages for ideas:
Penelope's About page – 8 years old
Brianna's About page
Kat's About page
Creative ideas for your About page include:
Write a post about yourself.
Write an A-Z About page such as I am an athletic, yet brainy child who decided that saving the environment is one of my future goals.
Create a list of things that people may not know about you.
Create your About page
All newly created blogs come with a 'Sample page' created. All you need to do is edit the 'Sample page' to change it into your About page.
Here's how you create your About page:
1.  Go to Pages > All Pages.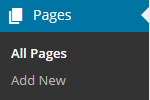 2.  Hover your mouse over the Sample Page title to bring up the action menus.
3.  Now click on Edit.

4.  Change the title of your page from Sample Page to About page.
5.  Edit the permalink to change it to about. It should now look like this!

6.  Add your about information and when finished click Update.
Remember to be Internet safe.
Don't include any birth dates, phone numbers, any personal information like your last name, your street address or your school name.
Tell your readers about your interests without providing any personal or identifying information.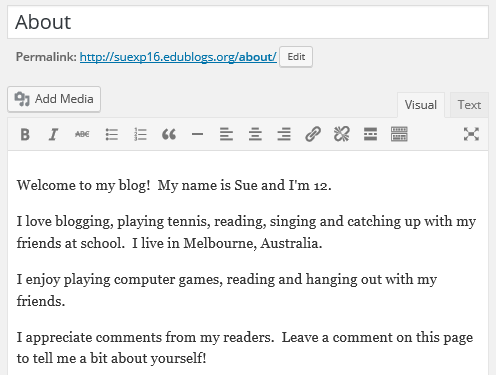 By default, comments are disabled on pages. If you would like your readers to be able to leave comments on your About page you enable as follows:
1. Click on Screen Options 
2.  Select Discussion and then click on Screen options to close.
3.  Scroll down to the Discussion module below your page editor and select Allow Comments.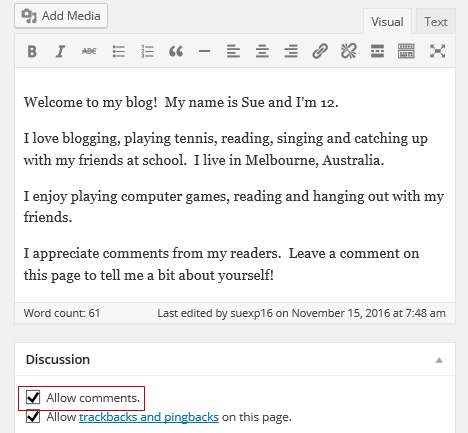 4.  Click Update.
Visual editor Overview
The area where you write your pages and posts is by default in Visual Editing mode which uses WYSIWYG (What You See Is What You Get) option for formatting. It works similar to any Word processing software. Simply write your post, highlight any text you want to format, and then click the appropriate button in the toolbar to add formatting such as bold, italics, or a numbered list.
The Toolbar Toggle icon is used to view the advanced formatting options in the second row including heading styles, underlining, font color, custom characters, undo, redo. You switch between Visual Editing mode and HTML editing mode by clicking on the Visual or Text tab.
Below is a quick video tutorial on the visual editor:
Your task
Complete the following tasks:
Publish an About page.  Creative ideas for your About page include: 1) Write a page about yourself; 2) Write an A-Z About page such as I am an athletic, yet brainy child who decided that saving the environment is one of my future goals; 3) Create a list of things that people may not know about you.  It can be descriptive like Penelope's About Me or creative like Brianna's Alphabet post and Karah's About Me: About My Country.
Leave a comment on this post and tell us how you went writing your about page. Remember to leave a link to your about page in your comment so we can have a look at your new About page.