The aim of this eighth activity is to:
Learn how to embed content from other sites into your posts and pages.
Embed content into posts.
Embedding Content in Posts
Embedding content like slides, quizzes, polls, videos and story books into posts creates opportunities for reader engagement and interaction not achievable using plain text, images or videos.
Most online tools provide embed code that you can use to embed what you've found or created into posts.
Below are examples of embedded content created using online tools:
Animal Quiz on PhotoPeach
Australian Animals on Biteable.
Create Content Using Online Tool
There is a wide range of online tools and apps that you can use to quickly create content which can be embedded into posts.
Many of these tools require an account to be created and some don't allow the site to be used by a person under 13 years of age.  You need to check their Terms of service or privacy page to make sure you are allowed to use the site before creating an account
The following are a few online tools that can be used by students under 13 for you to try:
Photopeach
Photopeach is used for creating slideshows and quizzes.  Watch this video to learn how to create a Photopeach slideshow.
Biteable
Biteable online tools that allow you to make animated videos and presentations easily.   Watch this video to learn how to make a video using Biteable.
https://youtu.be/PUKWRHhmId4
Embed in Post
Once you've created your content using one of the above online tools you embed into a post as follows:
1. Copy the embed code.
If you created a Photopeach you click on Embed in blog icon when you view your slideshow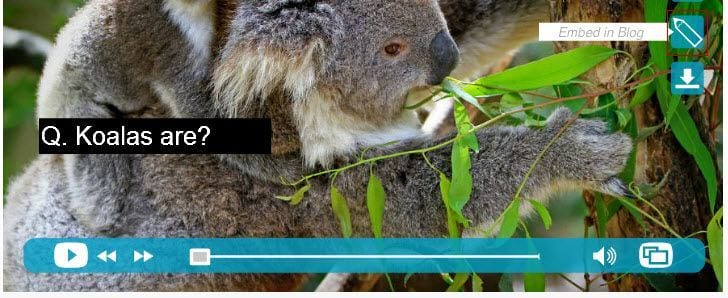 then copy the story embed code.
If you created a Biteable video the embed code is located in the Controls panel when you view your video:
2.  Go to Posts > Add New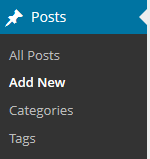 3.  Place your cursor where you want the video to appear and then click on the Add Media button.
4.  In the Add Media window click on the Insert Embed Code tab.
5.  Paste the embed code into the Insert Embed code box and click Insert into post.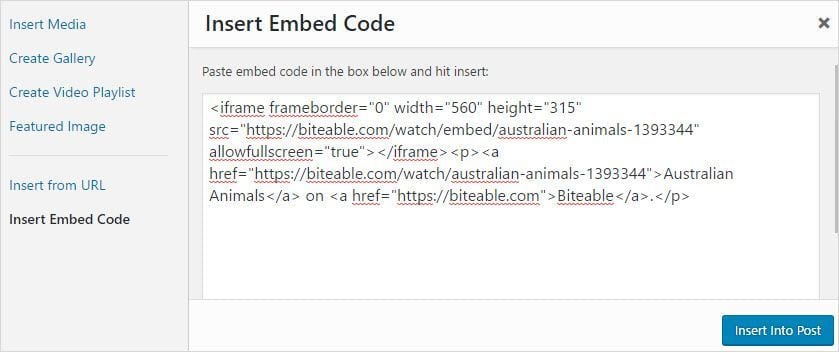 6.  When you have finished writing your post click Publish.
7.  You should see your video when you view the published post.
YOUR TASK
Complete one or more of the following tasks:
Create some content using Photopeach or Biteable (or another web tool), and embed it into a post.  You could write about the decisions you made when creating it, write a review of tool or use it to share information with your readers.  Check out Thanumi's review of three websites for creating animated videos and her comment starter video for ideas.
Leave a comment on this post and tell us how you went embedding content from another website into your post. Remember to leave a link to your post in your comment so we can check how you went embedding content into your post.